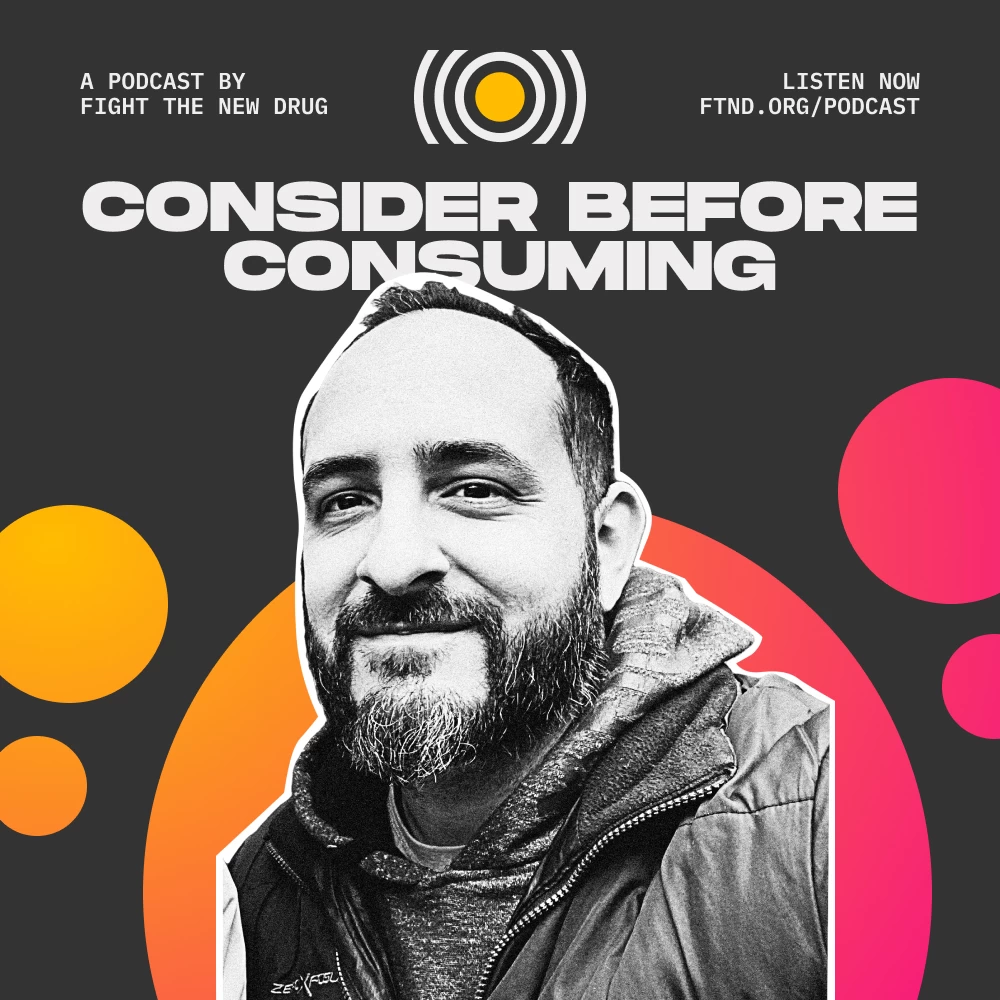 Episode 102
Experiencing Freedom From Porn Addiction
As a young adult, Carmen's occasional porn habit turned perpetual, which he realized when he was looking at porn even when he didn't feel like it. As a drug and alcohol counselor, he felt like a hypocrite because he was helping others in addiction recovery while struggling with an addiction himself. Once he began recovery, he realized the importance of not letting setbacks discourage him from continuing to try, and of not being alone in his struggle.
In this episode, he shares with us his story of recovering from his unwanted compulsive porn use, the significance of understanding the connection between pornography and trafficking in his continued recovery, and how he uses his story to help others.
Introduction (00:05):
Today's episode is with Carmen, who works as a drug and alcohol counselor for the prison system. As a young adult, Carmen's occasional porn habit turned perpetual, which he realized when he was looking at porn, even when he didn't feel like it as a drug and alcohol counselor, Carmen felt like a hypocrite because he was helping others in addiction recovery while struggling with an addiction himself. In this episode, he shares with us what inspired him to break free from his unwanted porn habit and what has helped in his recovery. With that, let's jump into the conversation. We hope you enjoy this episode of Consider Before Consuming.
Fight The New Drug (00:46):
So Carmen, if you want to just give us a brief introduction of who you are, a little bit about yourself that you want to share.
Carmen (00:53):
I'm from Southwestern Pennsylvania. I grew up in the Pittsburgh area and I've kind of been around this area all my life and I grew up in a really good loving home, and I have a family of my own now. My wife and I, we have all boys, so I, I'm a boy dad, so that makes things exciting. I'm a bit of a nerd on some things. I am a Lego nerd. I love Marvel stuff and Lord of the Rings and Star Wars and all that kind of stuff. And I currently work as a drug and alcohol counselor at a state prison here in Pennsylvania. And most of my career up until this point has been drug and alcohol and mental health related the past 17 years, but the past 11 years, it's going to be 11 years in August that I've been in the state prison working there. So 11 of those years has been in correction. So that's been quite a change up from just the recovery side.
Fight The New Drug (01:56):
I love that you have that past in the career in the drug and alcohol field, working with people who have compulsions and addictions because it ties in nicely to some of the experiences you've had and why you're a guest in today's podcast. Let's jump right into that topic of conversation. Pornography has had an impact in your life. Can you explain to our audience a little bit how pornography entered your life and the impact it's had?
Carmen (02:24):
Early on in adolescent and teen years, pornography wasn't nearly as prevalent as it is now, and even in the early two thousands. So I would say early on in the mid nineties going into the early two thousands, my experience with pornography was very few and far between because I didn't have access to it. Most of what me and my friends saw was just stuff on TV or maybe someone had a magazine and that was more out of curiosity and that was more, that wasn't so much, I dunno how to say, I knew it was something that people looked at, but it actually wasn't until I would say I was 19 years old and it was summer and I had looked at something in my junk mail and it was something from a porn site, and I clicked on it just out of curiosity, just like, okay, the name of this porn site is really stupid sounding.
(03:29):
And I clicked on it to laugh at it because I thought it was stupid. I thought it was so above it and everything. And at that time, I didn't really like how pornography portrayed women, so I wasn't really looking for it, but just out of curiosity, I'd look at those emails that gradually turned into me looking at it more often. And it was kind of like the shock factor just looking at it because I didn't pay for anything. Everything that I looked at was quick little previews, maybe one two minute previews, but in those previews, there's these quick split second snippets of different things and different angles and everything like that. And that kind of kept drawing me in because I believe porn, they try to use shock factor to really draw you in. And so that's kind of how it really started to sink in with its claws in my life.
Fight The New Drug (04:33):
So we can almost classify that as almost an accidental encounter with pornography. Just a random email sent your box and a click of curiosity. So if you don't mind explaining a little bit, when did you first realize that that curiosity crossed into a realm of, well, I might have an issue, I might have a compulsion, I'm might have an addiction.
Carmen (04:52):
It took me a couple months, probably about six months or so to realize, Hey, I keep looking at this sometimes just to look at it just because, oh, I'm alone. I might as well look at it. So a lot of times boredom and curiosity. And I think it started to become a problem when I realized I was looking at it. Even when I didn't feel like looking at it, I would just look at it and I was ashamed about it all the time, and I didn't like how I felt like I was compromising my integrity and I felt like a hypocrite because deep down I didn't like what it was portraying.
Fight The New Drug (05:29):
So without getting into the details, if you can remember back to the time of your peak consumption, it was really a strong part of your life or how it affected your daily routine?
Carmen (05:43):
Yeah, I mean it messes with your focus. You find yourself sexualizing everything with most addictions, something that we talk about in the material at the prison with the drug and alcohol program, we talk about preoccupation, which is a big part of addiction itself. And it's preoccupation happens when you're not using whatever the habit is and you're just thinking, okay, when's the next time I'm going to look at it? Or you're always kind of, you're distracted. So I would say it really affected me there. And the fact that I was working in recovery, I felt very hypocritical about that because I thought, wow, I'm trying to help these people with their recovery and their addiction, and here I am, I'm struggling with my stuff and I'm not applying these things that I'm learning that I'm trying to teach these guys. So I didn't like how hypocritical I felt at first. I didn't share it with anybody because most guys, most of my friends, most guys my age were obsessed with photography. So you didn't dare talk about it as if it was a struggle. So most guys that I heard just made it sound like, oh yeah, I look at that too.
(07:09):
But I really couldn't find anyone to open up to. I mean, there might've been some guys at my church and I would get different responses from people. Some guys would say, oh yeah, that's me too. That's just part of being a guy. Or other guys would say, yeah, I got to quit doing that too. I'm ashamed of that. And then of course the other response I'd get to the other end of the spectrum was, Hey, you need to stop that right now. That's wrong. You need to stop. But if you think about those three responses, it's not like no one's giving you an answer how to stop. And so I felt like, okay, I get it. Okay, this is wrong. I need to stop.
(07:51):
I can't find anybody who's opening up about how they stop. I knew shame didn't work shaming me into it. And I would say, I think something that kept me from thinking that I had a problem was I used to think that someone who was addicted to pornography was a loner who lived in their basement, who watched it for hours on end. So I think that caused me to minimize things just a little bit because I definitely wasn't doing that. Maybe I'm just this casual user kind of a person. One of the things I did because I couldn't find a good outlet, I actually made this shirt in college. I just used a white T-shirt and a black marker, and I put porn hurts women, and that was it. And I wore that because I guess I thought that if I wore that, that would motivate me to remember not to watch porn because I believe that statement, I'd wear that around and people would be like, what's that? And I'd have some people like, oh no, I appreciate you wearing that and everything. But it didn't have any long-term effect on me quitting that habit. It just kind of helped me project it out there. And it sometimes motivated me, but it didn't do a long-term effect. So
Fight The New Drug (09:17):
You mentioned a few times the term shame, and if you can expand a little bit upon that. You said that shame didn't help you deal with the issue that you're having. If you wouldn't mind if talk a little bit about how shame, how it didn't help.
Carmen (09:34):
I think because shame is something for me, it can kind of wake you up and sometimes it can get you motivated to just do better next time. But if you keep concentrating on shame, then it's kind of like self-pitying yourself. And something that I've learned is that if I stay in the shame cycle and if I pity myself, it's like I'm telling myself, no, you can't really change. There's nothing you can really do. You're going to struggle from time to time and you just got to have to deal with it. And it just makes you feel defeated and there's no hope.
Fight The New Drug (10:15):
Yeah, I'm glad you used the phrase shame cycle because that perfectly sums up how it applies to pornography. People feel bad about themselves and what they're doing, so they turn to pornography to get that temporary release, that temporary fix, and then they feel shame because of it, and they feel bad because of it. So they turned to porn and it's set that cyclical issue that keeps 'em coming back. So I appreciate you brought that up. I want to touch a little bit about your profession as a counselor in the prison. You're helping with these prisoners do what their addictions and their life issues at the same time, you're dealing with some pretty serious issues of your own. How did you compartmentalize that? How did you separate the prisoners' addictions and compulsions between your own?
Carmen (11:04):
Yeah. The only separation I saw was that, okay, these people with drug addiction and alcohol addiction, they were dealing with different consequences. Their addiction was taking them to rehabs, taking them to prisons, taking them to hospitals, affecting them financially. My porn habit wasn't affecting any of those things. I was of age, so I wasn't going to get in legal trouble for looking at pornography. I wasn't spending money on it, so it wasn't hurting me financially. It wasn't anything that was putting me in the hospital. There's no risk of overdose. So I think that was the only separation. I still felt like I was a hypocrite and felt guilty and shame, and I was grateful I wasn't dealing with those consequences, but I thought, man, these other people were, they got so many other things stacked against them to motivate them. And I thought like, well, my whole world's not completely falling apart. So I didn't have much hope about it, but still felt like a hypocrite. Anyway.
Fight The New Drug (12:11):
Well, let's go on the other side then. The process of recovery. How did that process start for you? When did that first start to take effect in your life?
Carmen (12:21):
So that was about, I would say, I think it was at the middle or end of 2014. I started going to counseling about a couple things. And of course I brought the porn habit up in counseling and I just went full bore. I kept going to counseling regularly. I started attending this meeting called a Celebrate Recovery meeting, which some people have heard of. It's like a faith-based recovery program. And I did everything they said. I got the sponsor, I got the books for clean time, I collected the tokens. I was like, okay, I'm going to do all these things. Then I see drug addict recovering drug and alcohol addicts do, and I'm going to go through the motions and be sincere and do every bit of it. And when I did it, I actually started to experience freedom and it really felt like a miracle because for so long I thought those programs were just for people with substance issues.
(13:27):
I didn't think it was going to really resonate and help me move forward, and I just couldn't believe that I was actually getting free. I didn't mind opening up to my sponsor, going to the meetings. I looked forward to getting those tokens. You get a one month, two, three, and then six, nine and then a year. And those were just because I was struggling by myself for so long, it was such a blessing to see my progress and have other people be proud of me too, because I tried to quit on my own terms all the time. So actually working a program made that huge difference because before when I was struggling, I might get a couple months clean, I'd feel proud, but I didn't have anybody to tell because I was still keeping it a secret. And that made a huge difference. So that's what the beginning of my recovery looked like, and I was able to, I think I got about 19 months clean. So it was like the summer of 2016.
(14:37):
I was away with some friends. I was out of town, and I think I was feeling a little overconfident and I didn't really prepare. I didn't take a lot of precautionary things I could have, I think I felt like, oh, I'm good. You want to feel that way because there's that temptation with addiction that you want to feel like you've arrived. But when it comes to recovery, you'd still take each day at a time. So I went on this trip and before you knew it, I was relapsing on the way down. You'd think I'd wait until I was at the hotel and I had the free wifi right there, and I hated how it ruined that weekend for me. I still had fun with my friends. We were on the beach and everything, but man, I was like, I can't believe I blew this up.
(15:31):
And I think one of the problems that I didn't see sneaking up on me was I was putting so much stock in that consecutive clean time that I felt like that was the sum of the success. So when I actually relapsed, I thought, oh, I feel like I blew everything up. I'm back at square one when really you're not back at square one. If you pick up and you get back accountable again and you stay honest and you take that time to reflect on where you went wrong, I didn't do that. I think I had a lot of pride and really just wanted that consecutive clean time. I felt like that was everything and I wanted total freedom. So what happened in 2016 for that next couple years, it's like I kind of kept slipping every once in a while. I stayed honest with my support system and everything, but I kind of accepted in my mind I was like, okay, it's still a problem. For those next three years, I kind of wavered months of clean time. I'd screw up, stay accountable and stuff, but I didn't have that full like, okay, I can do this anymore.
Advertisement (16:51):
Hey, fighters, it's no porn November. And if you're working to quit porn this month, you need to hear this. A new program called Relay will help make November the month you start, keep and grow your porn free streak Relay is just like group therapy, but cheaper and easier. When you join Relay, you'll be matched into an accountability group and unlock digital recovery tools to help you quit porn Plus during November only. Try relay for free plus access an 11% discount on all paid plans with code by 11 at checkout. Head to ftnd.org/relay and use the code Fight 11 at checkout. That's F-T-N-D.org/relay and get the support you need to quit porn today. Fight the new drug is an affiliate of Relay and may receive financial support from purchases made using affiliate links You
Fight The New Drug (17:48):
Talked about for years, you did it alone, or rather you tried to do it alone. And it wasn't until you found a group or a counselor or someone that you were able to find and find that accountability partner. If you can talk to or speak to people who are struggling currently struggling with pornography who may be listening to this, who are trying to do it on their own, can you expand a little bit about the challenges that has versus having say an accountability partner or someone who's experienced in the process of overcoming an addiction or compulsion?
Carmen (18:17):
Like I said, doing it alone, you're the only one that's proud of yourself when if you do get some clean time, also when you're alone, you're not able to get encouragement or feedback from other people. That was something solid about having a sponsor was that I could call this guy, and we had similar values. Actually, my sponsor, he was someone who had struggled with alcohol addiction, which, but he was open to being my sponsor because we had a lot of spiritual beliefs and everything. But it's all about finding that first person to open up to, it could be a counselor, it could be someone anonymous online. If you find some kind of program online, it could be a close friend you, you have to start somewhere.
(19:10):
It's making me think of Mr. Rogers because he said something in, I can't remember if it was in the movie or the documentary that came out, but he said, any feeling that is mentionable is manageable. So if shame and guilt are saturated in my heart and in my mind, I can't start processing that until I get it out. Because when I put things in the words, then I can start seeing how much better I feel that I got it out. Just having someone else who knows the crap you're dealing with, it makes you feel less alone. And that's like, I swear the first half of the battle is not feeling alone. And when you feel like you can open up to someone who is not going to judge you and just listen to you, it's like you don't know how good you feel until you actually do it.
(20:13):
It's kind of hard to describe. I think the way I describe it is when I used to run cross country in high school because I had a high metabolism, I didn't pay attention to how I was eating or how well I was hydrating and those kinds of things. So my freshman year I didn't care, but then sophomore year I was like, okay, I'm not going to eat Burger King the night before this huge invitational tomorrow, and I'm going to make sure I hydrate properly. And it's like I didn't know how good I would feel until I actually tried those things. So that's the best way I can describe it.
Fight The New Drug (20:44):
I think that's fantastic, and that's why I really appreciate individuals like you that are willing to come forward and share your story through this process that the conversation is becoming normalized and it allows more and more people who have been silently struggling, keeping it to themselves to realize that there are more people out there just like them, just like me, just like you, who are also struggling, who have struggled and have gone through some of the same things. And it helps them to have that path and that understanding that's already been laid out. And having that guide help them along that path. You've been very vocal with talking about your recovery. So my first question is simply, why are you so vocal about it? Why are you wanting to help people?
Carmen (21:32):
Because after I had had that clean time from 2014 to 2016, I was trying to find people to give my recovery back to, because that is a part of recovery. It's part of the steps that you are giving back your recovery by helping others. And I think one of the things that discouraged me was that I wasn't really finding many guys who were wanting to work on getting free and everything. And I kind of felt like my recovery was useless at that point because with harm reduction, for instance, if you have multiple issues you're struggling with, you're supposed to start with the most damaging. So at the recovery meetings I was going to, these people are struggling with alcohol, heroin and everything, and rightfully so. They should be addressing those things first. And I found every time I opened up about the porn habit, it's kind of like, oh, Carmen's got this little mamby pamby habit.
(22:34):
Everybody else has real habits that could kill them. And I'd have guys like, oh yeah, that's a struggle too. And I'm like, dude, work on the quitting heroin stuff first. So I knew people wanted it, but I've always been someone in my life, I've always been someone who wants to help someone. So because I couldn't find that pool of people, I kind of felt like it was my recovery was useless. So I think that's another reason why I gave up. Like no one cares. No one cares about a porn habit. It gets minimized or people laugh at you and everything. And it wasn't until that time between 2016 and 2018, there were three things that happened. The first thing was that I got involved in a local task force against human trafficking. That was always something I was passionate on fighting. And it was in those couple years that I realized the strong connection porn and trafficking had, because in my head they were two separate things.
(23:33):
And so I joined that. And also I participated in this class at work called Impact a Crime, and it's a program that inmates voluntarily take just to hear more stories from survivors and really learn to be more empathetic about their crimes and different types of abuse and things like that. And it's one of the best programs we have in the prison. So learning about victims of sexual abuse and those kinds of things I learned there. And then the third thing was actually you guys, I came across Fight the New Drug. I saw something on Facebook and I was like, oh, that's pretty cool. They're getting people's stories and they're just talking about the harms of porn. And up until that point, I had only heard people talking about porn in the regard that it's this moral failing and that's it. I didn't hear these. Hey, it's perpetuating sexual abuse use.
(24:44):
It fuels sex trafficking, it fuels gender violence and all these other things. And I'm like, oh my gosh, this is crazy. And at that point, like I said, in those three years, I was wavering in my recovery and I hated how I felt going to these trafficking task force meetings where they're talking about, yeah, there's four main things we have to do to fight sexual exploitation. We have to raise awareness. We have to encourage legislation and laws, steeper sentencing. We need to have shelters for women and children to go to for survivors and things like that. And I saw all three of those things happening. And the fourth thing is reducing demand.
(25:38):
And at that point, I was really feeling convicted because I thought to myself, oh my gosh, I'm learning about how porn is fueling something like sex trafficking, and I still dabble in it and I'm like, this is not congruent. How can I fight this over here and keep creating demand over here? So that really, that was the extra layer that pushed me forward because I knew that I wanted to fight sex trafficking growing up. We learn about slavery in the 1860s and everything with the Civil War, and I remember in school thinking, wow, I'm glad slavery is over. And then later in life we hear about sex trafficking and it's like it's not over. And to learn that I was helping it just by clicking things and just by searching things, it just brought that extra boost that I needed because I always wanted to be an activist for big social justice issues.
(26:43):
So that's what really propelled me forward because I thought, what if I really started getting free again, not just for my own self-care and my own relationships, but what if I did it also because I don't just want to fight the sex trafficking and put guys in prison. I want to help men realize they don't have to be slaves to their sexual appetites, and they can have sexual integrity. They don't have to be, I don't like that whole like, oh, all men are just men. All men are perverts. I don't like that. I don't identify as that. I don't like that every time if I walk down the street that a woman that I'm passing is that much more afraid of me because I'm a stranger and she thinks just because I'm a guy, I'm going to do something. I don't like that the women in our communities have to be on their guard so much. It's just something that really bothers me. And so it took me a while to come to that point to realize, wow, I can do something. And that is like the thing that pushed me forward to get back into my recovery. And like I said, I saw fight the new drug. You guys were posting just like little excerpts of people's stories. And I thought, man, I'm going to start sharing on my own, but I'm going to submit them my story. And that's kind of how it really got started.
Fight The New Drug (28:20):
I really appreciate that you have been one of the people that we've spoken here with phy new drugs that has really been able to share the idea that part of the recovery process is also helping other people along the way. And that's part of that process. And you've done such a great job in doing that and being very eloquent about it and being very well-spoken about it, and you've helped a lot of people. Even the video that we were able to produce with you, we've had so many positive comments and people reaching out to us, thanking us for your story. So I just wanted to, on behalf of Ithe New Drug, thank you for that video and thank you again for retelling the story a little bit. So in your process of helping people through your social media accounts and through your podcast, is there a particular story or instance where it had an impact upon you personally?
Carmen (29:11):
In my sharing, I would say I've had some people reach out to me on Instagram just thanking me. I've had guys open up to me and tell me I'm the first person they open up to about their porn habit. I was able to encourage them. So that was really encouraging to me because is, it's almost like, it's like you can get further with strangers than you can with people in your own life because the people, they don't know you, so they don't mind reaching out to you. But also if you talk about this stuff in your own social media with your own family and friends and coworkers, they're like, okay, Carmen, calm down. We get it.
(30:07):
So it was nice to have people who were like, wow, tell me more. How did you defeat this part? How did you get past this? And how did you get started? What do you mean you have this much time clean? How did you do that? So that's been very rewarding to know that I'm helping someone else because it's not an easy topic. I'm glad to know that I can be an encourager to people who are struggling to at least help them get started and shed light on things that people have been so secretive about. The first way that I started to share on my social media was I would take an excuse or a rationalization that I'd used that enabled me to look at porn in the past, and I would pair with it some type of counterpoint or some type of better rationale to come against that.
(31:02):
So if it was like, okay, well as long as I keep it secret, it's fine. And the counterpoint would be like, yeah, but I would know, and that's too many people to know. Or if one last look and then I'm good, that'd be the excuse. And it's like the counterpoint is it's never a last look. Why would you think that you've known your history? Another one might be, as long as I just look at soft pornography and not the more explicit stuff, then I'm good. And it's like, no, because even if I stick to that successfully, I'm probably going to end up going to the more explicit stuff. But even in the meantime, I'm still preoccupied throughout the day. I'm distracted, I'm feeling guilty. So no, and I think that's how we navigate ourselves out of denial is we confront every single excuse, rationalization, minimization, justification come against every single one of those, and your self-talk gets better.
Fight The New Drug (32:02):
What are some of the things that you currently do in your life to help you in your recovery process to help you stay away from that? The pornography,
Carmen (32:12):
I'd say it more has to do with me being aware of my emotions and my mental state. Because before it was like I felt like I was always being triggered by something and then I realized, wait, I'm not being triggered. I'm just not handling depression well, or I'm not handling anger well or anxiety. So I found that when I found the right coping mechanisms to pair with those emotions, then those were no longer automatic triggers. And also some of the other things I would do is I would be very, I stay very mindful of what I'm taking in throughout my day, so I'm not going to watch overly suggestive media if it, it's during a time when I'm feeling depressed or if I'm feeling anxious or whatever. I'm going to watch something wholesome if I'm going to watch anything. Also, just restricting myself on devices.
(33:09):
There were plenty of times where I'd be like, you know what? I'm not going to be on my phone past like eight 30 tonight. All I need to know is the weather tomorrow. That's it. Bone down, done. Those sound like very simple things, but you'd be surprised how those little bits of structure and boundaries that you create just liberate you. Something as simple as not taking your phone to the bathroom when you go to the bathroom, that sounds very simple, but if you leaving the phone outside the bathroom and you go into the bathroom, you have nothing to temp you. It's not right there. So there's a lot more practical things that people can apply that are actually a bit easier than you realize. Then I don't have to think about it. So I noticed that when I'm more aware of my emotional state, if I'm aware of the time of day and those types of things and I take inventory of where I'm at, I'm more likely to be proactive with managing those emotions instead of waiting till I'm triggered or waiting till I shouldn't be just doom scrolling on my phone just for no reason because I know that can lead to something.
(34:29):
So it's like, you know what? This needs to go down. I need to get away. I need to go breathe some fresh air. Go play with the dog, go do something else. So it's been a great process of learning what coping mechanisms work, what doesn't. A lot of it's trial and error, but once you realize what works, then you make it part of your plan.
Fight The New Drug (34:50):
I'm glad you talked about the small little steps, and I think that that's so important. An example that comes to mind is the moon landing. We just didn't go to the moon one day. There were a lot of small little steps part of that process. And the same thing with pornography recovery. That's big and it's difficult, and I think a lot of people don't understand how difficult it could be, and it's not the recovery, it's those small little steps, and then it's that mistake, oh, I messed up. Continue those small little steps. Oh, I messed up. Continue those small little steps until you reach a point where that recovery is as a whole part of your life.
Carmen (35:28):
I think a lot of the articles you guys have shown on the website and everything, I've read a lot of them, the ones about the brain, and so between those articles and the material we go over in the prison with the inmates, they talk about how in addiction it takes the brain at least up to two years to get back to a place where you're not so instant gratification driven and everything. And I noticed that myself because this second time that I got clean, so my current recovery, I call it my clean date, is actually June 10th, 2019.
(36:16):
And what's crazy about that is that's actually the anniversary of the first AA meeting or something like that. The two guys that started, I didn't know that until afterwards. I'm like, wow, that's crazy. But I've noticed how much it changes how I don't feel so triggered. And that's why I think so many guys feel so hopeless at first because they can't imagine not feeling triggered by every single little thing. Well, when you start controlling what you're feeding your eyes and you start having some structure and accountability, it's less on your mind. It does get better. It does get easier. It's still challenging. But the way I describe it to inmates when we're just talking about drugs and alcohol is that when it comes to cravings, there's a difference between swatting a fly versus trying to get a bear out of your house. Whereas the old urges and cravings, that's like the bear. You get used to dealing with the bear and okay, maybe you should close your door and the bear won't come in. And it's like, wouldn't you rather be dealing with a fly every once in a while instead of a huge carnivorous animal? The strength of your urges weaken over time.
Fight The New Drug (37:31):
Yeah, I love that example. And as a father, I also think of my kids when they were young, learning to walk walking was the hardest thing they could ever do. They were always following and stumbling, but now that they're older, they're running, they don't even think about walking anymore. They just do it. And I think pornography similar to that, right? It's really difficult. You're stumbling. It's you're encompassing your whole life trying to figure that out. About a year or two years down the line, you look back and you don't even think about it anymore. You're just walking, you're running. Thank you again for everything you've said. Is there anything that we've missed or anything you want to share with our listeners?
Carmen (38:08):
Yeah, something I wanted to retouch on was, like I said, when I first started opening up about this, like I said, a lot of guys, because of the mixture of views that you get when you open up, I was really looking for like, oh, here's a batch of guys who have gotten free or they want to get free. Something that I felt was kind of, I guess I would call it erroneous with a lot of the help I was trying to get at first was that people don't acknowledge the injustice on the other side of what you're doing. And I think when people learn about those things that can serve as a greater motivation for you, I want people to realize that when you are getting free of pornography, it's not just helping yourself, it's activism as well. And it becomes more rewarding, I think, with especially men because we know men are the main consumers of pornography.
(39:16):
I know more women have, but over time, but with men, I think men need to know that, look, you don't have to be a slave to your desires. You can change the way you think about women if you keep thinking that women are whatever porn or the world portrays them to be, if you keep thinking them as property, if you think of them as objects or inferior, then yeah, you're going to think you always deserve some type of sexual excitement no matter what. I feel like men don't realize how much entitlement we have when it comes to sexual experiences from women. And something that I've noticed when I was talking about the impact of crime class with the inmates, what I noticed that these guys who they've been doing some time in prison and they're wanting to learn how to be more empathetic and everything like that, and the change that I see in these guys gives me hope for things like decreasing the demand in sex trafficking.
(40:23):
Because when men know that they can be invited to be part of a solution to something, many of them will rise to the occasion. And if you can pair with that, that there is hope that you can get rid of this porn habit or you can stop being so possessive with your sex life and things like that, when there's hope in that, I think that's like the perfect pairing because there's hope and yeah, I'm helping change the world. You quitting pornography and realizing who's getting hurt at the other end is more powerful in changing the cycle and reducing the demand. Look, if you want to shift the whole culture and change for the next generation, tell your young men not to buy sex. Stop normalizing pornography, and those are the things that we can start doing now as authentic men. Every guy that I encounter in the prison, they all have at least one female in their life that they love, whether it's their mom, their girlfriend, their wife, their daughter, their niece. And if guys can start equating that to all women instead of, oh, I treat these women this way, I treat these women that way. There's authenticity there. When you start treating all women with respect, men need to decide if they want to be an authentic man or not. What type of man do you want to be? Do you want to be a man who's the same on the inside that you are on the outside?
Fight The New Drug (41:55):
Carmen, thank you so much. You've been so candid with your experiences and I really appreciate it on behalf of Faith New Drug, thank you. And on behalf of our listeners, I think you're really speaking to an element which really needs to hear the story the way you've expressed it. So thank you. You have a great rest of the day.
Carmen (42:12):
Alright, you too. Thanks. Appreciate it.
Advertisement (42:19):
Our annual rep, the Movement Day is on Friday, November 17th. Rep The Movement Day happens every year during our No Poor November campaign, and we encourage our fighters to rep the movement in one of our conversation starting teases so they can spread the awareness about the harms of pornography and show their support for this global cause. Don't have fighter gear yet. There's still time. Check out our no Poor November sale now at ftnd.org/shop. That's F-T-N-D.O-R-G/shop.
Outro (42:53):
Thanks for joining us on this episode of Consider Before Consuming. Consider before consuming is brought to you by Fight the new Drug. Fight The New Drug as a non-religious and a non-legislative organization that exists to provide individuals the opportunity to make an informed decision regarding pornography by raising awareness on its harmful effects using only science facts and personal accounts. If you'd like to learn more about today's guest and the conversation we had, you can check out the links included with this episode. If you find this podcast helpful, consider subscribing and leaving a review.
(43:30):
If this episode inspired you to consider giving up pornography, now is the perfect time. During No porn November, we embolden our millions of fighters worldwide to encourage others to learn about the harms of pornography and to quit porn for 30 days to see the benefits of a life free of porn. Are you in? See how you can get involved in changing the conversation about pornography all month long ftnd.org/npn. That's F-T-N-D.O-R-G/N-P-N.
Advertisement (43:58):
It's the best time of year to shop at the Fight The New Drug online store during our annual No Porn November sale happening all month long. Get up to 70% off all our conversation starting gear, including new items released just this month. It's the perfect time to stock up on your favorite fighter gear. Plus, when you shop 100% of the proceeds from your purchase, support our mission to educate individuals on the harms of pornography and sexual exploitation. Get your gear before it's gone. Shop the no poor November sale now at f tnd.org/shop. That's FTND.org/shop.
Fight the New Drug collaborates with a variety of qualified organizations and individuals with varying personal beliefs, affiliations, and political persuasions. As FTND is a non-religious and non-legislative organization, the personal beliefs, affiliations, and persuasions of any of our team members or of those we collaborate with do not reflect or impact the mission of Fight the New Drug.

A database of the ever-growing body of research on the harmful effects of porn.