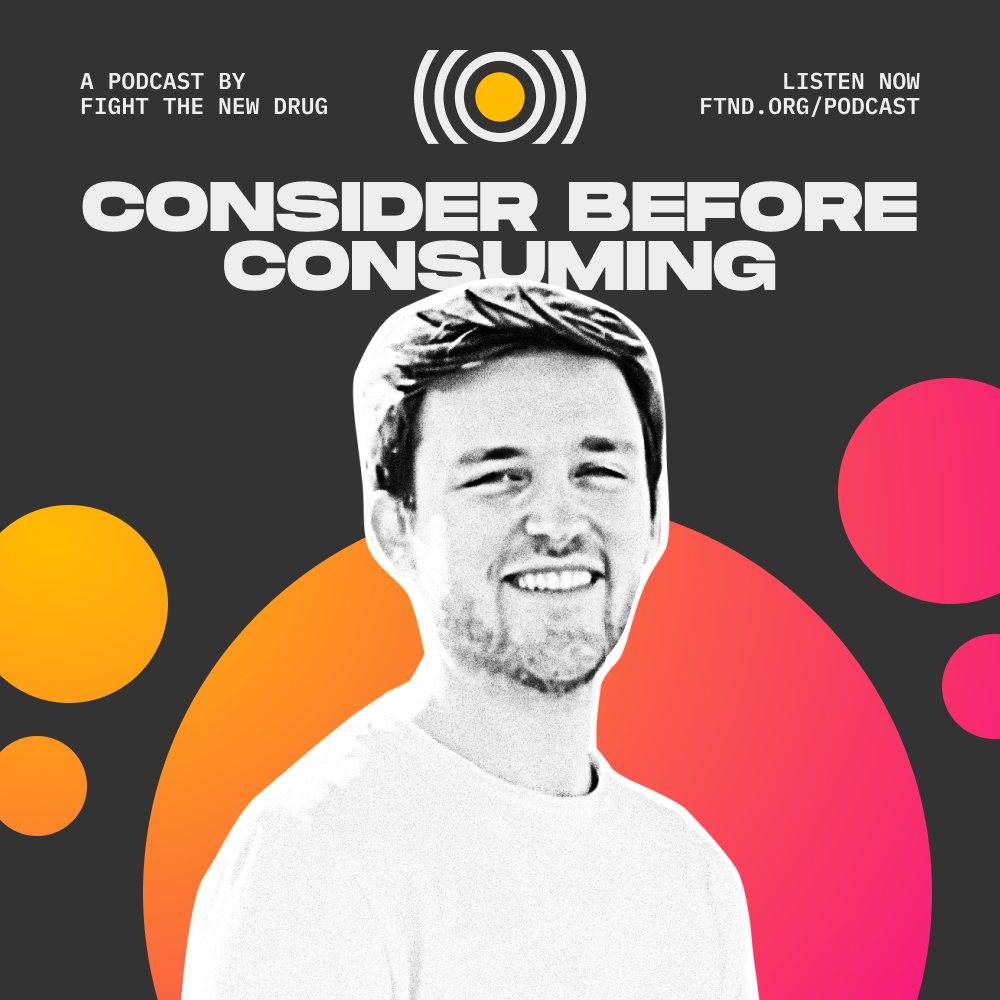 Episode 93
How You Can Stay Accountable While Trying To Quit Porn
After being exposed to pornography for the first time during his freshman year of high school, Chandler began struggling with pornography and realized that he wasn't able to stop using willpower alone. It wasn't until he connected with others in an in-person support group that Chandler was able to see improvements in his journey to be porn-free. In this episode, Chandler discusses how finding a support group helped him to break free from shame and stay accountable and what ultimately led him to create Relay, a virtual group-based program for overcoming pornography use.
Introduction (00:02):
After being exposed to pornography for the first time during his freshman year of high school, Chandler began struggling with pornography and realized that he wasn't able to stop using will power alone. It wasn't until he connected with others in an in-person support group that Chandler was able to see improvements in his journey to be porn free. In this episode, Chandler discusses how finding a support group helped him to break free from shame and stay accountable, and what ultimately led him to create Relay a virtual group-based program for overcoming pornography use. Relay is expertly designed to strengthen your support system so you can stay connected and accountable. Relay's matching technology intelligently pairs you with four to eight other similar individuals based on just a few factors. So you can start healing with a tight-knit team. You can try Relay today at ftnd.org/relay. With that, let's jump into the conversation. We hope you enjoy this episode of Consider Before Consuming.
Fight The New Drug (01:08):
Well, hey, Chandler, thanks for joining us today. Um, I'm excited to share with our listeners a little bit more about Relay and the awesome resource that you've created there. Uh, but first, can you tell us a little bit about yourself and kind of your personal experience that led you to create this?
Chandler (01:23):
Yeah, for sure. Well, thanks so much for, for having me on, by the way. I know, like, when I first stru started struggling, I wish that I knew about resources, like Fight the New Drug, um, because for so long I felt alone. And the story for me goes back to, um, my high school days. I was exposed maybe later than, than some people that I've talked with. I think I was 14 at the time, maybe 13, um, just coming into high school. And I guess like for context, like I grew up in a home where, uh, I was the oldest of five and I always felt kind of this inner desire to be a good person and to succeed in different areas of life. And so whether it was school or sports or anything else, I always felt like I could set my mind on something and I could do it.
(02:07):
And yeah, like usually with relative ease, like, I mean, school wasn't that hard. You know, in the public school that I was going to, it was like, okay, like I can, I can master what I set my mind to. And I was a hardworking kid. I generally tried to be good. And I remember, um, we actually did have conversations in our household about pornography and about the potential dangers and harm around pornography. And so it, it was somewhat of an open conversation, but I don't think I necessarily felt like, you know, it was still like an easy thing to talk about or that it was like a, you know, super easy thing that I could approach my parents about if it were, if it were a struggle. Um, and so when I was first exposed, I don't think I really realized like what, um, like the, the connecting of the dots of like what we had talked about and what was kind of happening.
(02:54):
Like, Instagram was new at the time. Um, and, and I remember being on social media, like it was kind of this gradual approach. I didn't just, you know, jump into anything, you know, crazy, but it was kind of this slow lull towards things that all of a sudden I realized like, I didn't wanna be watching this. And I just remember feeling so much shame inside and feeling terrible while myself and feeling like, you know, this wasn't something I'd wanted to ever experiment with or seek out how, how am I struggling with this? And I think at that point it had started be to become habitual. Um, and I realized like I'm having trouble stopping on my own. And I think that was like a scary moment that compounded all that shame and made me feel even important. Yeah. Um, and it just sucked. And I know so many people feel that sense of isolation, the journey from there.
(03:44):
I don't know how it happened, but I think my mom one day kind of felt nudged. Like she needed to just check in on the topic and ask, like, you know, had it been something I had been exposed to or, or dealing with. And, and for some reason, I guess maybe cuz of those conversations growing up, like I felt comfortable enough to be honest and say like, you know, for the last, I think maybe year or so at that point, I, I'd been struggling with it. And so I told her and um, I just remember her being like really sad, like feeling like she'd failed as a parent mm-hmm. Um, and I almost felt the sense of like, obligation to, to help her feel like it wasn't, you know, her fault. Yeah. At some time dealing with this kind of mindset of shame that I had built up and trying to not make it like I was a failure.
(04:24):
But that's how I felt. Um, I ended up, uh, taking her advice. Like she, I guess did some research after that conversation and found a local group-based program for like adolescent young adult boys and, uh, basically like led by a, a therapist to get some basic training and, and help. And I think by that point I had realized now over the course of a few years in high school without being really successful, that I like didn't have, you know, the willpower or that willpower alone, you know, wasn't gonna, and I thought that it was cuz it was for anything else in life and this wasn't, and that, that's kind of the, the chapter that changed a lot of things for me is finally finding other people who were in the same boat. Um, which ends up connecting to the story of why I'm working on Relay now as my full-time job and why we started that, um, because of those early, I guess, experiences I had teaming up with other people to know that I wasn't alone, but also to figure out how to work with other people towards the same goal rather than try to do it alone even if I knew that I wasn't.
Fight The New Drug (05:31):
Well, your story obviously is so common, like so many people go through what you went through as a young person, but I do think fewer people have the experience of having a parent approach them in a way that is a, as kind of open. Do you think that, like had your mom responded any differently that it would've changed the trajectory of, of your recovery?
Chandler (05:54):
I think even though I felt like I could be open with her, I didn't necessarily have the mindset that like I should involve her in my support system. Yeah. As the only person in my support system to be frank at the time. Um, if she had responded differently, like if she had been maybe more upset, like, I don't think it was necessarily the most healthy thing that she kind of pointed all the blame on her, but yeah, I think it was better than her, you know, getting upset with me. Certainly. Absolutely. I think she realized that like, you know, this, this wasn't defining my son and although I think she slipped into the mindset of like, you know, maybe this defines me as a parent, which I know she's worked through and realized that that's not true. Yeah. Um, I think the way that she did try to respond with compassion and, and even just trying to be helpful, like when she brought up the group-based program, she didn't try to force it on me, but she was, um, you know, trying to help, uh, do some of her own research and, and just make suggestions and kind of leave it on the table for me to think about.
(06:47):
I know everyone's different. I know I had come to the realization though, uh, uh, myself, that like I did want to do something about it and that the status quo wasn't working. And so I think, uh, you know, even if someone doesn't have a parent in that situation, I think the willingness to accept, like, it, it may be totally, totally normal it for most people to need some sort of resource, um, to, to get help changing because there's a lot of neuropsychology and things that, that make this so addictive and tough to break. Yeah. Um, and that's okay. Like, it's not necessarily our fault if you're feeling trapped. Absolutely. If you wanna get out it, it's certainly not helpful to to point the sword at yourself. Yeah.
Fight The New Drug (07:28):
Well said. And I think, I mean, a huge part of recovery for so many people is understanding, you know, the role that shame plays in keeping us stuck so, so much of the time and the things that we're struggling with. So can you talk a little bit about like what your journey with recovery and kind of, you know, releasing that shame was like for you?
Chandler (07:48):
Well, I think where it started to change was really from the first meeting that I ended up attending. And I think it was helpful that I was with other people who were roughly my same age. Like, I think I was 17 at the time, it was anywhere from maybe like 16 to 25. Um, and so I think like the approachability of something that, you know, it wasn't like walking into the basement of a church with a bunch of like old dudes that like, you know, it didn't, whatever idea I had in my mind of like a group, um, it, it actually felt a lot different. And so I think just even the first impression of seeing these other, you know, eight, 10 guys who, you know, seemed pretty normal actually, it seemed like they had lives and goals and ambitions for who they wanted to be.
(08:32):
And, and I realized like the narrative I'd been telling myself really probably was I'm a failure and, and only people who struggle with this, you know, they must be failures if I can't get over this. Yeah. And realizing as I looked at others, well I wouldn't say they're failures, like that would certainly be way too harsh and, and definitely not true. And so I realized that that narrative I was telling myself that was rooted in shame wasn't true. And I think for a lot of people it can be really difficult to untangle that just like looking within yourself alone. And I think it can be helpful to like, hear other people's stories and associate with other people who are on the same boat at varying stages of recovery to realize like there are, you know, people all over the world struggling with this same issue and different issues. And it's part of the human experience, I think to learn, um, how, how to deal with the stressors of life without turning and coping, um, with behaviors that are unhealthy. And it's okay if for a time we're still learning how to figure that out. Like these are tough life skills that isn't just about porn, it's about how to deal with life better, um, and to not need porn to do that. And uh, and so I think seeing other people start to tell their stories help me start to untangle my own, uh, false narrative.
Fight The New Drug (09:44):
So often we forget when we're struggling with things we internalize and we isolate. And I think it's so important to have support, um, especially and to, to be able to go through that recovery process with other people. So obviously that's part of the reason that Relay is such a great resource. Can you tell our listeners a little bit about what Relay is?
Chandler (10:04):
Yeah. And may maybe to get there, I'll just close off the story and how it came full circle. Yes, please. My personal story. So I, you know, I made some progress through that group experience as I left high school and eventually came to college, moved here to Utah where I'm right now. And, uh, I remember like coming to college, like had some setbacks again and like, um, realized like, okay, I can't just view this as like a one time, like, you know, put in some effort for a few weeks or a few months and then it's like gone for good. I need to like figure out how to implement a sustainable system. And so I found a group here locally and was able to start, I guess getting back into having a support system with other guys, uh, who were, you know, also gonna college and like at varying stages of their recovery.
(10:48):
For some of them it was the first time for me it was kind of like my second, you know, time around. Um, and I think like through that experience I remembered from my high school days that the power that I found in that first group was really by utilizing the other guys in the group and figuring out how to help each other, um, I guess recognize those unhealthy beliefs that we were telling ourselves, the lies that we were telling ourselves to help hold each other accountable in a way that wasn't shameful, but still like, helpful to actually implement changes. Yeah. And, and really just forming deep connection. And so I remember experimenting, this was near the beginning of my college days with this new group and trying to find ways that we could better utilize each other outside of those meetings. Cuz we were meeting on I think Tuesday nights or Thursday nights, um, once a week.
(11:35):
And I remember we would come back to group and someone would always talk about like, you know, I was really struggling the other day and uh, you know, I hadn't been doing the goals that I talked about last week and I ultimately like slipped up and we were like, man, like why didn't you pick up the phone and call one of us? Like, we would've totally been there for you and, and like, we didn't know that you weren't, you know, you were kind of slacking leading up to that, so it's not that it was your fault, right. But it's like we could have helped maybe hold each other accountable to our game plans. Right. Um, we were working on with, with our therapist in, in that setting, um, and just repeatedly tried various things, group chats and other methods of like holding each other accountable and helping implement this program outside of the meetings. And it always continued to regress back to like not really working like us not really staying a team seven days a week. It was just like one hour a week on Tuesday nights.
Fight The New Drug (12:26):
Yeah. And why do you think that was so difficult?
Chandler (12:28):
That's a good question. I mean, I think in the traditional structure of, of group-based recovery, it is like most common to have, you know, once a week I go to a meeting in person or on Zoom and then I, you know, find some takeaways, hopefully learn some things and identify what I want to do the rest of the week until we meet again. Um, and I think by nature of being human, what that looks like is now I'm just, you know, me back alone in my apartment or my home living my normal life solo and I don't see those guys and, you know, we're not necessarily best friends, so it's not like I'm naturally hanging out with them anyways, um, even if we do have a good relationship. And so I think the natural human tendencies is to go back into isolation where it's more comfortable to, you know, go at my own pace.
(13:13):
Uh, and like, you know, maybe it's not even intentionally slacking or taking it easy, but, you know, not having to to to operate in that shared group context is easier and it's harder to do with other people, but isolation is what breeds shame and isolation is often what, um, you know, leads us into whether it's behavioral patterns or thought patterns that can keep us stuck. And so I think it was just kind of the natural tendency and I think we only thought about the group when it was too late. Like it's like, I'm about to slip up, maybe I'll reach out. But there's already so much, I guess like going on in the brain at that point that, you know, it realistically it's too late. It should have been caught a lot earlier, but we didn't have good systems in place using like GroupMe or WhatsApp.
(13:58):
To make that happen. And, you know, I had no idea looking at the GroupMe if Nathan, you know, just a random name that I'm making up if Nathan like, you know, had been doing his stuff that he said he would over the last few days. So I have no, I no idea if I should check on him. Uh, you know, unless I'm super proactive, which the average person, you know, that's unrealistic probably. Right. So, so yeah, I mean we're, we're there at school, me and a few friends and we're in a computer science class and I've been interested for a long time in technology. Um, you know, ironically, you know, technology's connected to this issue, but I think I always felt within me like, you know, it's not technology's fault either. I think technology can be used for good. And so I was always interested in like, it's starting a company or building an app or something.
(14:43):
Um, then in this class we had the opportunity to just pick any idea and go build an app. And so I talked to my friends and I kind of shared openly with them my story and neither of them, uh, were, were struggling with it, but they had plenty of people in their life who they knew who were or had. And I told 'em like, I think there's a major issue with people struggling alone who really do want to overcome porn but feel like they're the only ones, or even if they know they're not the only ones, there's not good tools to make it easier and less awkward and more effective to team up with other people to be successful. And so that was kind of the early impetus for Relay was, you know, what if we built it, you know, what if we, you know, didn't reinvent the wheel, um, but borrowed from a lot of things that we've seen work and try to build a tool that really focused on helping layer in the comprehensive support system that helps you do recovery smarter. Cuz it's not smart to struggle alone, but it's hard and that's, it's the natural path like I mentioned. And so that, that was why, you know, we started to go and do this. We had so many people we talked with who were like, yeah, I would love to be better at, you know, not being isolated, but it's hard. And so yeah, we're like, let's, let's go to the the whiteboard and see what we can think of.
Fight The New Drug (16:00):
Yeah. Was just so amazing because, uh, you know, everything you just said, those are all of the reasons that a lot of people stay stuck, right. Because it's really difficult to get support. So I think that you just went and created the place where people could get the support, but not just in the traditional once a week setting, but kind of in an ongoing format. Um, and for any listeners who don't know what Relay really is and how it works, will you tell us a little bit about it?
Chandler (16:24):
Yeah, so Relay is really designed to be this digital first group-based program. So it's on an app and it's meant to be integrated into your daily life. So it's not like a meeting once a week with my group. In fact, it's meant to be super approachable for the person like me who maybe, um, you know, was even more hesitant than I was to think about getting on a Zoom meeting or going in person showing their face to start getting a group type of support. Uh, you don't have to show your face with Relay and it's all kind of chat-based facilitated group interactions so that you can stay anonymous and protect your privacy while also still opting into real connection. Um, and so we, uh, in the program, like there's kind of a personal training component where we still try to arm you with the knowledge and the curriculum and some of the tools that help, uh, you know, whether you're a newcomer or a veteran, help you build, um, the right set of capabilities to manage addiction and to manage your recovery process in a way that's tailored to you.
(17:22):
And then surrounding that, um, providing you this accessible group of people who are in the same boat as you and we're able to match you with people based on your preferences. Like, you know, whatever you're specifically struggling with, um, age if you prefer to be with other people who are religious or who aren't. Uh, we factor in all, all of those types of preferences and put you with seven, eight other people. Um, and people will say like, they love Relay because it feels like, um, an way to have that group-based support seven days a week instead of just once a week. But it also is like, I can take five minutes here and go see how someone in my group is doing with the goals that they've been working on. So a common thing will be like coming in and seeing like, oh, so-and-so hasn't, you know, completed their module for the day or their accountability goals are slipping a little, I can proactively reach out because we've created a lens of transparency that doesn't require you to disclose anything like personal about you, but to still create kind of this shared recovery environment where it, you know, people will come in check with me sometimes, like when I show people the app, I'll sometimes demo this feature where you check in for how you, how you're feeling and it helps you identify and regulate any trigger that you potentially are experiencing.
(18:34):
Um, and so I might, you know, show people, like if I'm feeling off, it helps me throw a red flag in the chat and I've accidentally, you know, done this when I'm just showing people the app and it throws a red flag and I'll instantly get like four people either like respond and text me in the, in the app and say like, Hey man, you okay? And I'm like, oh, I'm just, you know, showing people the app cuz they know Yeah. That I was, you know, one of the creators. And it is just a funny example though of people really want to not just get support, they want to give it too. And I think even looking at traditional models of recovery like aa, they have a really strong service oriented culture where they've embraced this idea of one of the best ways of sustaining progress and overcoming addiction is by turning outwards and helping other people.
(19:15):
And you don't need to be like years and years sober to be able to do that. And I found that to be true for me. Like as I was, you know, still working through things myself in college, I was starting relay. It wasn't like I was 10 years, you know, down the road. And I think that was like this really powerful insight of how do we help make it easier for people to be there and support others knowing that it will help them in their own journey. And so that's kind of the experience that our program creates,
Fight The New Drug (19:41):
Which is amazing. And I mean, we hear all the time from people who are struggling and they think because they're struggling, they can't, you know, speak out against porn's harms or they can't rep the movement or join the movement. And it's like, who is better qualified than you to understand how porn can impact an individual, right? So I think it's, it's really good to encourage people even who are struggling to be able to support and help others. Um, I think that's, that's such such a smart way to integrate this tool. You did mention, uh, we've mentioned some differences between what Relay offers and traditional therapy, but is this meant to be something that supplements traditional therapies or can you talk a little bit about the, your goals for that or thoughts on that?
Chandler (20:21):
Yeah, yeah. Originally we, we designed it to be very flexible to someone that maybe was already, uh, working with a therapist or working through some sort of program where Relay could kind of layer in as this additional peer support and accountability platform. And so I'd say maybe a third of the couple thousand people that are currently using Relay fall into that bucket. And then the other, you know, two thirds of people Relay is the main primary resource and program that they're using for their recovery. And for a lot of people it's their first thing. And I kind of mentioned how like we've designed it to be very approachable and a great first place to start, you know, coming out of the natural, um, fear of like, you know, I know it's bad, I understand the harms now cuz Fight the New Jar puts out such great content, tell me understand that.
(21:05):
Um, but like I, I'm kind of, you know, not ready to just like go whole out there, you know, and post on my public social media of like, Hey I have a problem, but that's okay. Um, yeah. And so really we we're trying to make it to where the program is tailored to you. So like you come in into our intake survey that doesn't require you to talk to anyone. You download the app and as you go through it in the trial experience of the app, um, it, it'll help curate a plan where it's a personalized recovery plan for you, um, that involves the curriculum. It involves tools, um, that you can kind of configure that if you're working with a therapist, you can set it up with the things you're already kind of working on and it can supplement in that way. And if you don't have that, we've built it to be kind of a all-in-one solution that can help someone that wants that group-based approach. Um, but still needs kind of the general training and curriculum and tools. Right. To help.
Fight The New Drug (21:57):
And you partnered with clinicians to create the app, is that right? Yeah,
Chandler (22:01):
So I had a lot of, you know, clinicians that I had worked with over the years and they were like some of the first people I bounced this idea off of, you know, I was like, yeah, why, why isn't there more technology working in kind of the clinical context to help existing groups or individuals have some of these principles? And almost every clinician I talk to agrees that connection is super important. Having the right kind of accountability is important. It's often very hard to get that accountability with a spouse or someone you know, in real life cuz there's this tricky relationship and you don't wanna feel like a burden or, or, um, let that create more shame for you. And so yeah, I think the early feedback we got from clinicians was like, yeah, like yeah, it sounds like what you're already thinking. If that existed in any shape in, in an app, yeah. Like that would be great. Mm-hmm. Um, but as, as we've kind of gone along over the last couple years, we've built out kind of a clinical advisory team that helps oversee like our content that we create in the curriculum and ensuring that the way that we structure groups is safe and makes sense
Fight The New Drug (22:57):
And it can be really intimidating to find a, a therapist or clinician to work with. So I think being able to have that anonymity as you talked about, but still get the accountability and the connection is such a big thing because that's so difficult to get in a lot of other settings. So, um, you mentioned your catering things to, you know, personal characteristics, uh, to, to kind of align these groups, which I think is great. Aside from pornography, I know there are other things you offer groups for. What are the options for someone who would wanna sign up for this?
Chandler (23:27):
Yeah, so pornography's been our core focus since day one and that's, you know, by far the most popular program we offer the most, um, built out. And the other programs are actually patterned very similarly. And it actually was funny because early on we had a lot of therapists referring people to us saying like, you know, I want my client to this in conjunction with the therapy they're receiving. Um, but I've also got clients for eating disorders and for gambling and for substance abuse. Um, could we do groups for that too? And we look, took a look at the product and realized that there's not a whole lot about, um, porn addiction that's very different than other addictions there. There's, I guess basically the, the core insight that I kind of came to just as a normal human being is like, it's just a crutch that I need to fix underlying things in my life. And that crutch can look different for anyone, but the way to address it is pretty similar. And so therapists were the ones to say, yeah, it's pretty similar. Could you start doing groups for eating disorders, et cetera. And so eating disorders, gambling, substance abuse. More recently we've started, um, forming some groups for that are the main, yeah, main ones that we are.
Fight The New Drug (24:33):
And do you have some groups, um, for Betrayal trauma as well? Is that something you've added?
Chandler (24:39):
We, we have tested that pretty extensively and I would say like at the time of recording this episode, we're trying to figure out how that fits in because we from day one have wanted to support, um, the Pat Betrayal trauma use case and people who have a loved one that is struggling and help them find healing. Yeah. And I think the, the way that we are trying to continue shifting the product, cuz we're still a pretty young company, is we wanna really make sure we're nailing the, um, kind of personalized smart recovery, um, curriculum and group-based program basically for yeah, changing behavior, whether it's pornography, eating disorder, gambling, whatever. And then we want to figure out like with any of those, there's people around them that there's absolutely a betrayal or trauma in, in any sense that is, is present. And so we do currently have some groups in the app for betrayal trauma, but, um, I would say probably Safer Bet is to stay tuned and it's something that we really care about and we'll likely add more resources for in the coming months and years.
Fight The New Drug (25:40):
You've talked a a little bit about, um, accountability and this being a way to keep people from isolating again, you know, between once a week appointments, but can you talk a little bit about the importance of accountability for recovery from pornography specifically?
Chandler (25:55):
Yeah, I think for many of us we might have, uh, definitions of what accountability means to us that may not be, um, fully healthy or, or even comprehensive in what it could be in its best purest sense. And, and what I mean by that, like for example, accountability as a, as a kid to me and, and my parents were great, but you know, when they were holding me accountable to something, sometimes it didn't feel the nicest and, you know, as imperfect parents, like sometimes it didn't probably come off the best either. Um, and so it could, you know, sometimes create more shame or like if I don't have the right type of accountability structure, um, with a spouse, like it might actually not create the effect of accountability that helps me be more, um, at the inputs. And I guess maybe like I'll focus on that as maybe the definition and the importance of accountability is something that helps you put the work into the inputs, the things you can control, not necessarily the outcome.
(26:57):
So it's less about my wife for example, um, kind of beating me over the head, uh, as an example, you know, of verbally or just kinda getting upset if, if I slip up, but her caring a little bit more about am I working my plan and the process Yeah, the interest that I can control. Um, and, and the accountability centering on that I think is what I've seen to be where accountability tends to be more effective and, and who you have as accountability partners I think does matter. Um, I'm sure there's, you know, people that have researched this a lot more than I have, but just kind of observing throughout Relay the number of people is really interesting having, you know, a handful of people in addition to like one person, like in traditional AA you have one sponsor. Um, but kind of like different layers of maybe I have one main person plus this like relay group plus a couple people in real life.
(27:51):
So you have these different angles and dimensions that, um, I, if you have chosen people who care about you and are aligned with kind of how recovery looks and they are helping you focus on the inputs and not as much on the outcomes, um, I think it can be a really super important experience to help you, um, stay on track. Cause I think that's the risk of not having it is, um, you start to measure yourself by the outcomes of like, how many days have I been successful of not viewing pornography and we forget to think about like measuring our game plan that helps hopefully create the kind of healing where pornography's not a thing anymore.
Fight The New Drug (28:28):
Yeah, it's that proactive accountability as opposed to only being reactive and looking at the outcomes. I think that's great advice for, for someone maybe struggling with pornography who you've been in their shoes, what, what is the best piece of advice you got in your recovery or the, the best thing that you learned that has helped you in your journey that you would share with them?
Chandler (28:51):
Yeah. I might sound like I'm beating the dead horse a little bit with this theme of connection and, uh, and teamwork, but I remember, I think it was one of my therapists that kind of drilled it into our heads that we don't need to be perfect to be there for someone else. Um, like you said, to rep the movement to, to be open about it or to just find a way to be a helping hand to someone else who you know isn't doing well, um, or to someone who is doing well and to cheer them on and to try to learn from them. Like, I think when I started shifting my mindset to realize that if I could turn outwards to try to be a good teammate, and if I could do things to try to have a great support system around me, it made all the difference in my recovery.
(29:35):
It wasn't just knowing I wasn't alone, it was now I was working in a place that wasn't isolated. I was working in a place that had transparency and healthy, um, systems for accountability and connection. And so that, I think that's the me message I would give people is like, it doesn't matter really how long you've gone or you've been able to go in the past with pornography, you are worth so much right now. This does not define you. Um, this doesn't define your worth. And you certainly, uh, just as you are, have unique strengths and, and a unique personality that someone else might need to, to be their fellow support person. Um, whether it's in a group setting or some other setting, um, you, you can be that type of person at any point in time in your journey.
Fight The New Drug (30:25):
Well, I'm excited for our listeners to check out Relay. Um, we will have in the show notes some links to send people there, uh, and to learn more about how they can utilize that resource. But is there anything that we haven't covered that you wanna share before we wrap up?
Chandler (30:41):
Yeah, I would just say, you know, whether you've been on this journey for a while, you've, you've been trying different solutions or you currently are, you know, working through different solutions or this is your first kind of venture into thinking about getting help. Um, j just give it a try. I would say that there's so many good resources out there actually that I know Fight the New Drug has been able to compile a number of them. And, and I think I was so glad that I at least gave it a try and realized that I wasn't locking myself into anything by just taking the step and changing something about how I was trying to get help and realizing that my current status quo wasn't going to really get me the kind of healing that I wanted. And quite frankly, having the respect for myself to say, even if it's a sacrifice of time and some money, I am going to care enough about myself to try to get help.
(31:30):
Um, you know, I built Relay because I care so much about people not having to struggle alone like I did for so many years and like so many other people I've talked to. So we've tried to design it to feel as approachable and safe and like personalized to what you need and want that, you know, you can check it out and go through the trial experience and see for yourself if it's something you feel like is helpful and great and if it, if it's not, I know that there's like a whole slew of other things that, um, I would just advise that people think about figuring out what, what's gonna be the right formula for you. Cause I don't think you should give up on yourself just because the first thing that you've tried didn't work. Um, it's worth continuing to keep going.
Fight The New Drug (32:05):
Well, thank you so much Chandler, and thank you for sharing your story with us and also for creating Relay for our listeners, please go check out the show notes, um, or, or the postes descriptions wherever you're seeing this, and we'll be sure that, uh, you can access Relay through a link there.
Chandler (32:22):
Thanks, thanks for being willing to, to have me on and appreciate so much all the work that you guys do. I remember when I first heard of Fight the New Drug, it was around the time, uh, that I started struggling and it, it did gimme that initial sense of like, I'm not alone. And there's an organization out there that is tyring to help people, which is cool.
Outro (32:40):
Thanks for joining us on this episode of Consider Before Consuming. If you are interested in learning more about Relay, you can find them ftnd.org/relay. Consider before consuming is brought to you by Fight the new Drug. Fight The New Drug is a non-religious and a non legislative organization that exists to provide individuals the opportunity to make an informed decision regarding pornography by raising awareness on its harmful effects using only science, facts and personal accounts. Check out the episode notes for resources mentioned in this episode. If you find this podcast helpful, consider subscribing and leaving a review. Consider before Consuming is made possible by listeners like you. If you'd like to support Considered before Consuming, you can make a one-time or recurring donation of any amount ftnd.org/support. That's F-T-N-D.O-R-G/support. Thanks again for listening. We invite you to increase your self-awareness, look both ways, check your blind spots and consider before consuming.
Fight the New Drug collaborates with a variety of qualified organizations and individuals with varying personal beliefs, affiliations, and political persuasions. As FTND is a non-religious and non-legislative organization, the personal beliefs, affiliations, and persuasions of any of our team members or of those we collaborate with do not reflect or impact the mission of Fight the New Drug.

A database of the ever-growing body of research on the harmful effects of porn.