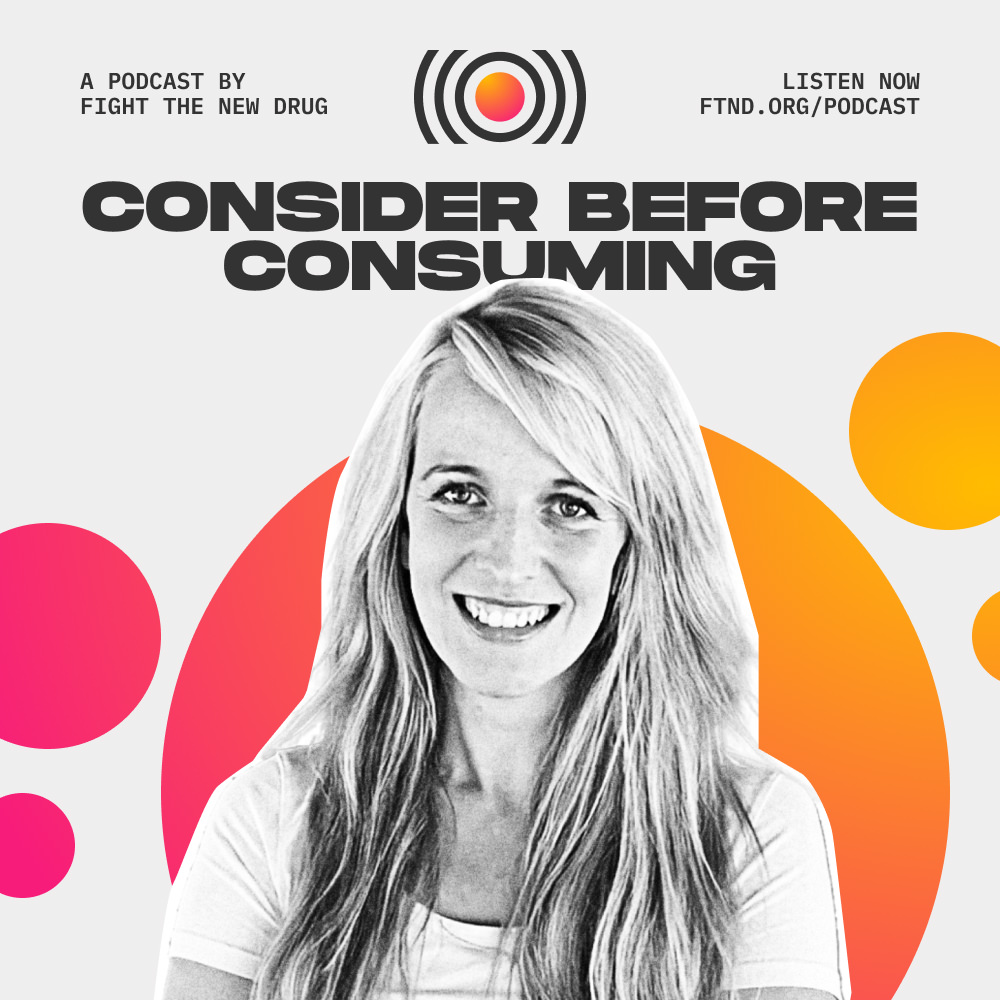 Episode 87
The Importance of Digital Literacy With Youth
Lisa Frost: Author and Co-Founder of Wired Human
Lisa Frost is the Co-Founder of Wired Human and author of The Glass Between Us. In this episode, Lisa discusses her work with kids and parents to discuss the harms of pornography, the correlation between screen time and mental health, and the importance of digital literacy for youth. Lisa also shares her experience doing a 30-day "digital reset," hiking on the Appalachian Trail with her family without devices, and the impact that had on their lives.
You can learn more about Wired Human here.
Garrett:
Well, why don't you start off with the basics, Lisa? Tell us who you are, where you're from, what you're up to, why you're joining us on the podcast, all those basics.
Lisa Frost:
Hi, my name is Lisa Frost. I am the co-founder of Wired Human, which is a nonprofit that raises up teens and kids to become the first line of defense against online harm and exploitation. And that is my heart and passion. That is what I do from morning to night outside of also being a mom and raising a bunch of littles myself, the rest of the time I have available. and yeah, I love the work of Fight the New Drug. In fact, they inspired us years ago to lo to join with each other and a bunch of allies to, to launch this nonprofit years later. Awesome. And also, we wrote a book too on this theme, that is actually what kicked us off The Glass Between Us is our book. My husband and I co-authored it together. And it's basically compiling all the, the research and ideas to, use media in a value-driven way.
Garrett:
Why did you choose the title? The Glass Bet Between Us?
Lisa Frost:
The Glass Between Us, we chose because we feel so often devices are not necessarily bringing us together, but they can be something that divides us where, we are not as close as we could be if we were, yeah, even jumping on a phone call, being together in the same room. And oftentimes we don't always connect with what's happening behind the screen, but it influences our lives in so many ways.
Garrett:
Well, we will make sure to get a link and include that end episode notes for the listeners that want to check that out on your website, you say that you are devoted to solving the digital health crisis among the rising generation through education, research, and advocacy. What do you mean by the digital health crisis? Can you speak to that a little bit?
Lisa Frost:
I think there's an overload of technology in our lives right now that is not just benefiting us, but is affecting our minds and hearts outside of working for wired humans. We also have a partnership. We work as a contractors, my husband and I work for the University of Colorado. And we look into a lot of research and what we are finding is that anxiety, depression, are critically connected to the screens. Now, the question is always, is there causal link or is it just correlation? But what we do know is that this generation is in crisis. They spend a ton of time on devices, and oftentimes what they're consuming and how they're consuming the content is not necessarily benefiting their life and happiness, but in fact, even making kids more sick these days.
Garrett:
is there research showing causal, or is it more correlational research?
Lisa Frost:
It's starting, it's, it's very hard, it's very hard to prove causal connections. Yeah. But it is starting to happen. Like for instance, with emotional dysregulation, it is showing that spending more time online, it is, it is increasing that dysregulation. Right. We know that .
Garrett:
There's a positive correlation. More screen time equals more anxiety or increased anxiety or increased depression. I know that's true in my own life. I think there's both, I can, I can observe the positive correlations where more screen time equals all of those things. And I can also observe in my own life the negative correlations when, when I'm at zero porn consumption, which has been the case for a long time now when I'm at Z zero porn consumption, I see a decrease in those things, and an increase in happiness or life satisfaction.
So just on an anecdotal level, that's that's how I feel.
Lisa Frost:
Yeah. And, and we see that we, we have seen the research even, reaching into other themes like social media. There have been studies that say, young adults that quit social media for a season, that they have found amazing health benefit benefits when it came to depression. Like depressive symptoms actually decreased during that time. And even, there's a study that I love that's about, younger kids, fifth graders that went into nature for five days to shed all devices just for temporarily to be together and experience their surroundings. Yeah. And they, were much better at reading emotions after those five days, which is Oh wow. Not necessarily health, but it does, it does tell you something about how it's all connected to our emotion. And we know from happiness research that what makes us happy is actually connecting to people, connecting with each other.
If we feel there is meaning in these relationships we generally feel better. Yeah. Now, of course we have social media that's connecting us to each other. That's great. But the question is, is that decreasing our feelings of loneliness? Is that increasing our feelings of genuine connection? or is there more something where we are observing other people's lives all the time and certain beauty standards and certain lifestyles that we envy and we would like to have. So it's very much also, how do we spend our time online and how do we use it?
Garrett:
So is it safe to use the word crisis in this scenario? Is it a crisis?
Lisa Frost:
I would say crisis is very fitting. Yes. and if you talk to young people, we have interviewed a lot of young people. I have worked with young people for many, many years. They would say it's a crisis. They would say, Hey, I know this is not making me happy, I wish I had better friendships. I wish I had better, better online connections. I wish we weren't always on our phones, but we are. Yeah. And I feel like they, they often say it feels like a glass or it feels like a separation, but we don't know how to change it necessarily And that's where we come in and say, Hey, you are powerful. You have a lot of tools that you can, you already have and you can develop, and you can use technology as a tool, but also enhance your offline life in a way that it turns into something really beautiful. It's in your hands.
Garrett:
So you've basically dedicated your life to this mission and to helping children. I'm wondering if you can speak to what is digital literacy and why you, why is that the first line of defense?
Lisa Frost:
Digital literacy, I think is crucial. And we need it on, on two levels. The kids often, you know, we often call the kids digital natives. I'm in my thirties, so, sometimes I'm like, I have no idea what, what apps you're using and what's going on. Even though I have devoted my life to this, like I can barely keep up with the new developments. Right. Oh, yeah.
Garrett:
Technology moves fast.
Lisa Frost:
So am I, do I call myself literate? To a degree, yes. and to it, what, what I think is super important is that we learn with the kids and with the young people. and what I mean by that is I think there's such loneliness already in this rising generation because they're not connected because they're spending so much time on screens because we, they are not experiencing life together. And then they are, you know, on these platforms all the time. And then they are seeing all these things. And we are not there. We are often not there because we're like, this is too overwhelming. It's just a phone. We don't know how to speak about it. And that's where I think digital literacy is so key that we are saying like, Hey, I wanna join you there. I wanna see the platforms you're using.
I wanna see what's going on. I wanna hear about the struggles. And what does that do? It removes shame. it just leaves the room. If we do it in a way that it's like, I wanna learn with you. I might not know all the apps. I do know a lot about life. I do know a lot about what makes life a good life, what makes healthy relationships healthy relationships. Yeah. And so in that, I think we can merge and learn together. And ultimately that's where we come in with our book and say, value-driven media uses key. Because if I know who I am, if I know where I'm going, then I can put the things that I'm experiencing and doing online in that grit. If I know what my identity, I know, hey, I, I'm a good person. I have a good journey ahead of me. I have goals, I have vision. maybe I should stay away from that because that is leading me off track. So digital literacy to me, is much more than change your passwords regularly install a filter, but really owning what I am doing online. Wow. If that makes sense. Yeah.
Garrett:
I like that explanation a lot. You've said that you do this, it's full-time work for you now. Yeah. Yeah. Are you speaking to pornography with children or more speaking to their parents and then they speak to the children?
Lisa Frost:
Both.
Garrett:
Both. Okay. Yeah. How do those conversations or trainings go?
Lisa Frost:
The, the parents often are completely oblivious. They would say, "oh, not my kid. It's not my kid." It's out there somewhere. We're like, no, the kids are literally placed in Las Vegas. You know, and you're like, okay, figure Las Vegas out on your own. Just go ahead, have a great time and you'll be great.
Garrett:
Can you elaborate on that example, just to, to elaborate a little bit more on that Las Vegas example? What do you mean by that?
Lisa Frost:
Yeah. So I would say, porn is very omnipresent on the internet. and I, I'm sure we agree. And the, the porn that the kids are seeing, it's not just soft porn, but it's catered to habituated users. So it's catered to people that have been consuming porn for a long time. So it's like, let's make it, you know, as extreme as graphic, as violin as as we can to keep you hooked to Right. for you to want more. We have been, greatly impacted by Gary Wilson's work, who, talks a lot about porn on the brain and what it does. We have a very, very scientific approach. and then also the, the porn is oftentimes, brutal. It's brutal towards women. It's brutal towards children. It doesn't cover consent, all of these things. And kids are discovering that so early on and don't know what to do with it. Because we have a parent generation says, oh, this is, I don't wanna talk about sex. I never learned to, my parents didn't talk to me about sex. That'll be okay. Hopefully.
Garrett:
Yeah. And we didn't grow up with this accessibility, or with this content.
Lisa Frost:
Content accessibility. It started sort of with my generation. Yeah. but, but even then, we discovered it later, I would say, because it was, we
Garrett:
Were, we were adults once, cuz the, the smartphones came out around 2007. So we were, cuz you and I are similar in age and Yeah. We were adults when you had that type of accessibility.
Lisa Frost:
That's right. Yeah. Yeah. That's right. And, and I think it's great that you bring up the smartphone. It's like, we did not have internet in our back pockets available 24/7 in our bedroom. Maybe, you know, some people had a laptop who like, I'm sure you know, it was out there Right. And porn started flooding the internet really early on, unfortunately, because there wasn't any robust regulation. And sex sell makes a lot of profit. yeah. But what we are seeing is the kids, they often wanna talk about it. they feel burdened often by what they are seeing. Some feel shame, some feel it's just a part of life. But I have not met one porn user who would just tell me, oh, this is just amazing and I just love it and I know it's, it's good for me. Like, yes, there are sometimes these elements, of course, it's exciting. It, you know, it, it fuels us like nothing else. It, you know, it has this moment of like, oh my gosh, this is exciting.
Garrett:
Yeah. It spikes the reward pathway. Like there is a, there's a reason why people turn to pornography. Yeah. But that doesn't mean it's gonna increase or improve their life satisfaction.
Lisa Frost:
Yes. I, I love how you put that. I I couldn't agree more. Yeah. So, so what we need really is, is parents, educators, all kinds of people who say, we need to find a way to talk about these issues and not in a sugar coated way. I, we interviewed Gabe Dean Farer book, who is a former, porn user. And he would call himself, former porn addict because he just literally couldn't have sex anymore without a computer screen. So if you talk about addiction, I think that's a pretty graphic example right there. And he was, he wasn't moving away from pornography because of any moral decision, but literally because he's like, this is like impacting my love life. And he says, we cannot sugar coat these discussions. Like if we don't talk about real things surrounding it, the humiliation, the degradation, but also what it's doing to the brain, what it's doing to, to us in terms of connecting with each other.
I know a lot of people who are hurting that are younger than me because they cannot find that right person that matches them. And I'm not saying everyone should get married. I'm not, I'm not gonna put that on people. I'm just saying we have to see why people are so unhappy. And if you see how much time they're spending on porn, how much time they're consuming and what the messages are that are feeding their brains all day long. it doesn't have much to do with loving each other, serving each other, connecting at a hard level and not just a physical level. All of these things are just completely, completely absent. So we have to ask, what is this media doing with us? Right. And what is this media doing with a young generation? And I don't wanna shame anybody, it's not their fault, but I think it's something seriously wrong that there's no, there's just no protection. It's like, oh, five years old. I talk to dads, they have, you know, 4, 5, 6, 7 8 year olds that have stumbled upon porn, have gotten hooked, and they don't know what to do. and that shouldn't be the case. Like that shouldn't be the case.
Garrett:
Right. Those who create, those who create pornography, label adult material. And yet most kids see pornography by age 13 according to research.
Lisa Frost:
And kids that haven't developed their identity, not even their sexuality. I get that it's massively confusing and it has to have an impact, maybe a traumatic impact for some, maybe just a confusing impact for some. Right. I'm not saying it's all the same, but it's definitely, it cannot lead to a healthy place and it's not. Okay.
Garrett:
So you mentioned that the kids want to speak with their caregivers, with their parents about their porn consumption or about porn consumption, or about porn generous. speaking. And I just wanna push back a little bit on that because that's good. I think that internally deep down, they do want someone to speak to they want to experience that cathartic or that catharsis that can happen from having those conversations. Yeah. But I would say on a surface level, they oftentimes don't want to have those conversations. That's good. Can you speaks to that a little bits and Yes. That's, and what you've seen, how, like, I just think it's important to speak to it because as a parent, if parents listen to this and then they go try to talk to their Oh yeah. And then their kids are like, awkward and, or Yeah. They just don't want to talk about it. Yeah. What can parents do to continue with those conversations?
Lisa Frost:
I would say yeah, of course pornography is an awkward topic to talk about at times. and one of the things that we do when we do, when we speak in schools is we give, kids a survey to fill out, like, what is, what are some of the hottest topics? What are some of the things you wanna talk about? And they often mention porn. Hmm. so they, I think there is a huge interest to, to cover these issues. Now, do you want your mom, do you want your dad to have this awkward conversation about sex or porn? They, they might not necessarily express that. I fully agree. Right. but I do think they are searching for direction when it comes to their lives.
Garrett:
Absolutely.
Lisa Frost:
Absolutely. So what it can't be, it can't be this awkward conversation. It's like, oh, okay, now let's talk about porn,,. which is hard, because yeah, it is, it might be a tough topic, but I love to approach it with a lot of science. Like, and a lot of vision. Like if I am, hopefully, my goal is to be an inspiring adult. Yeah. That can be a good role model. If I model a good relationship, for instance, let's say with my husband and say, oh my gosh, healthy, healthy sexuality is such a good thing. Oh yeah. And it's really cool if you are just in love with one person and you don't have a million images in your mind all day long. Like something like that, you know, and even, depending, depending on the age of the child, one thing that I find really cool is that if you have teenagers, they wanna understand things. If you say like, wow. This, for instance, Billie Eilish, she did an interview on porn, couple months ago, and she was like, porn literally destroyed my brain. I let men do horrible things. To me, it was, it was ab absolutely awful. And looking back, I know that porn groomed me to be okay with these things. And I would go to like an older teenager and say, Hey, you think that's true? You know what? Or is she just being crazy? Push, you know,
Garrett:
Push back a little bit and spike the curiosity.
Lisa Frost:
Yeah.
Garrett:
That's good. And that's a good tip. I like that.
Lisa Frost:
Totally. and I, I think what kids don't like, and again, younger kids need boundaries. Not younger kids need a level of protection, but older kids, they, they wanna be be leaders. They wanna be people that we trust, but also that can make up their mind. And if we can find a way to, to let them be leaders in this process of like celebrating when they're making good choices. And I'm not even just talking about porn, but making good decisions. Like if they own their online choices, that's the ultimate dream. Right. And I'm not saying like, that never comes easy. I'm not saying, oh yeah, here, you know, you have your phone, you figure it out, and, you know, if it's too much, just put it away. Like, it's pretty addictive as it is. Even for us adults. I know that Oh yeah. That's where you get kids. Not really. Yeah. Let me like, let's talk about this, you know?
Garrett:
Right. Well, we have three kids and two of them are getting up there close to the double digits. Right. They're eight and nine years old. and I feel like they're eight and going on like 20. They think they know a lot. they, they think they know everything Yeah. So I like that you speak, you're speaking to helping them because in from their perception, they almost, they think that they're 16. Like they Oh yeah. They think they're maturity levels at a 16 year old's maturity level, Uhhuh,. So I like that you're, speaking to the importance of having good, healthy, not sugar coated conversations.
Lisa Frost:
And I think what we need to do in our day and age, it's, it's more important than at any other time, is we need to raise leaders Okay. I believe in you. You can make a difference in this world. Like, I know this stuff is crazy addicting. This is affecting me too. But even let's say how we are inter interacting with screens around friends, like even something simple, I think we can empower kids to be the ones that set a different tone in a different climate. It's not easy, but I think, I think that's where change can happen because ultimately it's these kids that, that didn't choose to inherit this world that need to be, be leaders in, in this, let's call it fight, because I think it is.
Garrett:
Yeah. So I'm wondering if you can speak to social media/ tech breaks. Yeah. And I know that you have done one yourself, you and your family did a, a break and it was pretty amazing feat. It was a pretty amazing feat what you, what your family accomplished. Can you tell us about your digital reset that you did for 30 days on the Appalachian Trail?
Lisa Frost:
Yeah. So, that's exactly what we did. We said let's shed devices as much as we can. We did have a phone for, looking at, at campsites and looking at water supply. Right. on the Appalachian Trail. But we, we said, we want to see what it feels like to live without devices. And we had the luxury to carve out 30 days. I know. Wow. That's the extreme version. And most people don't, don't get that chance in their daily lives to do that. But last year we did. and, I can tell you, we were about to give up after day two. Yeah. So that it wasn't just a glamorous time. That's, but we said
Garrett:
That's, that was, that's what I was gonna say. Because I rode my bike across the United States. And I think before I did it, I had this uninformed optimism. I was like, yeah, let's go do this. But then on day, maybe even like two hours into it, I'm like I have this informed pessimism. And I'm like, Nope, I can't. I don't know if I can do this. Did you you experience that then?
Lisa Frost:
I believe it. Yeah. And, we had little kids too, and, and I'm like, oh, that's gonna be so romantic. They will have us just to themselves and they'll be in nature. And of course, after they, the one they were like, what is this? Like, we don't like to redoing this. And, and it was like freezing cold at night. How old were your kids? they were two and four. Wow. so yeah, they, they're still quite young. and we had these backpacks. In fact, it was probably an easier time to do it than if they were just, you know, starting to, to hike on their own because if our son, he, he hiked a bunch, but when he couldn't keep going, we just put him in the backpack. Yeah. and my, my husband had this wheel that he was, pulling behind him that had all of our luggage.
But, we, we just wanted to see what does it feel to do an actual reset where all these messages, all these connections from technology are not impacting your lives anymore. for a season. And it wasn't like, like I said, we ha we had phones, we connected with our families. Hey, we are safe. Everything is good. But we didn't do social media. We didn't do any googling, any scrolling, any, any app using outside of that. and it was, it was quite the interesting experience because it was ridiculously hard at times., sometimes we didn't have water and we had to depend on other people to, to get some water to get through the day because some spring was dried up. sometimes we had to, we always had to clean our tents and our backpacks a certain way to protect us from bearers that, live around the Appalachian trail and smell any food.
But, but I can say that I have never had a live season that brought us together as this experience did. It wasn't, initially, it took weeks for us to see the benefits. Like literally weeks, I think we were two weeks, weeks into it or weeks after the event. no weeks into it. Okay. Weeks into it. I would say the first two weeks it was, it was a lot of, there was a lot of wrestling still, like a lot of hard, and then somehow we arrived at the sweet spot as a family where everyone sort of got in a groove and was like, this is actually really cool. Oh, wow. And by the end of it, our kids didn't wanna go, go home. And we were like, yeah, we are kind of ready, like, let's maybe transition home. Wow. Yeah. But, but it was, it was life changing.
And it was amazing because for me, it just connected to me, to my inner core again, as no other experience ever has to that degree. Because you are like on these mountains going up and down and all of a sudden your brain opens up. And it was incredible to feel like I'm alive as a whole human being. I think so often we are like, we have all this information, all this knowledge. Like our brains are exploding all day long with good stuff, with bad stuff with, and I still need to do this, this, and this. But what about our soul? I think oftentimes our soul is so malnourished and when we did that, height was like, I could connect with it. Again,
Garrett:
Disconnecting from technology can help us feel all the emotions that actually occur in our lives. You spoke to some of them, like frustration or sadness or depression.
Lisa Frost:
Yeah. Happiness. Yeah. It's so true. Yeah, it's so true. Cuz what are we doing when we are on device devices? So often it's external. Like, it's like, okay, what, what's everyone up to? What is the world up to? What is the war up to? What is, what is the shopping up to? Right? But what is actually in here? What is it that makes us human? What is it that brings me joy that makes me come alive? I don't think we get these answers through sec technology sometimes. Sometimes we listen to an audiobook and get super inspired, or we watch like a short video clip that that lifts us up. Like I absolutely believe that, that it can be a great tool, but oftentimes I think it can be a distraction. And also I think it strips us off experiences. I am, I would say I'm a pretty adventurous person sometimes. Yeah.
Garrett:
I'd say that too. Sometimes it stopped the fact that you hiked Appalachian for 30 days with a two-year-old and a four year old and your husband.
Lisa Frost:
That's pretty cool. Sometimes we joke, my husband says it's because I'm German. I don't know. I did grow up. It's in your, it's around a lot of nature. And I do like challenges. I'm just that kind of person. That's cool. But, I grieve about the fact that I think oftentimes my kids and that whole generation, they are stripped of real life experiences. And I wanna live countercultural in that, that I want to pave experiences for myself, but I also wanna do that for my family and those around me. Because I feel in these real life experiences where we have fear, the challenge, I fear the wrong real, I fear the hunger and I don't have any food left. Like there's something that happens in that that shapes us. And I, I just love that. Like, one thing I I think a lot about is what skills do I want my kids to have? Hmm. Like, I, I don't want them to be douchebags. They're neither, I don't know my, of course they have hard moments, but I want them to be resilient. I want them to feel confident and strong. I want them to, to, to face an obstacle even online and, and being like, Hey, I'm, I know who I am, I know what I'm capable of and I wanna instill that in my kids early on. So sometimes I, I like to push them a little. Right. Not too much in a way that, you know, it hurts them to a degree that they couldn't handle it. But sometimes I think kids need to be pushed. Oh, hundred percent. Kids need to be challenged. Like even on this trail, we had times where, where we would really cheer our son on to, to hike that, that little mountain.
Garrett:
That's cool.
Lisa Frost:
Like, hey, don't just sit on the backpack. Like you can do it. That's a big part of health confidence in him.
Garrett:
Yeah, exactly. That's a big part of healthy development is pushing ourselves a little bit past our current capabilities and learning. Yeah. Yeah.
Lisa Frost:
That's really cool. Yeah. And, and I think, my generation, sorry, I, I don't always wanna compare. Of course there's nuances, but it's, it's, I think it's pretty proven that we typically spend a lot more time outside. We spend a lot more time exploring, with, without being monitored all the time. And sometimes it's hard to recreate that. But I do think it's very healthy for kids to tap into that experiential side of life where it's like using all the sentence, it's a sense, I can listen, I can hear, I can feel, because it, it grows the whole person, the whole human.
Garrett:
What if someone can't do 30 days on the Appalachian Trail? Any suggestions?
Lisa Frost:
I, I have this tech, this philosophy that when talking about tech technology, when we take something away, we need to replace it with something better or more meaningful. Hmm. And if you talk to a young teen, they might not feel that in the moment because we are having, you know, all these quick dopamine kicks online, let's say through a computer game or through a like, or through a quick porn video that someone is watching. but we can't just take something and say, okay, that's it, you know, but we have to think long and hard about what is it that we wanna build into our lives and then add technology to it. And we had to do that when we came back from the trail. It's like, what space do we want to give technology and what, what is what about the rest?
So if anybody wants to do a reset, and may it be 30 days, may it be less. I think 30 days is great because it takes a minimum of 21 days to develop a new habit. We know that. So if it's a longer stretch that we can shut certain technology down, then it's, it's better. It's more beneficial because it does help us to, to shift some things around that I think can be more sustainable. We also have to really decide what do we wanna fill that time with? Let's say you can do that with the people you live with. May it be your family and say, what do we wanna do? You can a certain timeframe and say, this time, whenever people come home from work or school, we'll do it extra fun. Like write a list. Think about the things even locally that you can do and say, Hey, why?
It's because we wanna grow together. We wanna find each other again. We wanna see how it's like, and we can talk about it and if it's that motivation, I think a lot of people would be up for it, you know? Right. So yeah, that's, that's one thing that I find absolutely key to talk about. What do we, what do we replace that technology, that time that we spend on technology with. And how does it enhance our connections? In our book, we talk a lot about the loneliness crisis and how, giving somebody that's lonely. a smartphones like pouring gasoline on the fire of loneliness. It's not necessarily the origin, but I think it enhances it. and yeah, so I think it needs to be a time that's a reflection for myself, but also for connection with, with one another.
Garrett:
I want to give you an opportunity to tease your book a little bit more so I'm wondering if you can speak to why our listeners should go and navigate to Amazon or to your website and purchase your book.
Lisa Frost:
So our book was written for people who feel a little lost when it comes to speaking about these hot topics with this rising generation. It gives us a language that we can use to approach mainly teenagers. Cuz that's who I worked with for more than 10 years, who we worked with for more than 10 years to be like, Hey, let's have these hot conversations, these hard conversations, and find a way forward. It really is, it is meant to be empowering for anyone that wants to raise up this generation to be the first line of def defense against online harm and exploitation. And in the book, we call it the rum model. It's very relationship based. That's our starting place. If we figure out how to connect with each other well with this generation, well then we can learn to understand, to mentor and also put the right boundaries.
But in our book, we say boundaries is the thing that comes last because it's the addition to what we are already doing with each other. And then we have a lot of challenges, throughout the book where, where we want to challenge our readers, our audience to say, Hey, let's leave your phone in a drawer for five hours. Was it challenging? Why, why not? So we, we want to be bridge between generations where parents, educators, teachers feel like, oh, I can tackle some of these issues and I have a tool here that can help me bring out some of the things up and also bring some more understanding. It's very research driven, very evidence based. We do talk about porn, we talk about gaming, we talk about social media and say, okay, let's put some frameworks around that. What is it again, what that makes us human that we actually desire as people? And where is technology sometimes hijacking that? And how can we, we reverse it again into something positive where we fuel the, the real humanity inside of us, and then we plug technology into that.
Garrett:
How else can we support you, Lisa?
Lisa Frost:
we are working on a course for young people. We are working together with a bunch of professionals in, the educational world. and we are looking for, for young people and also educators to come and support us with their insight knowledge to build something that's really, really robust. So our, our, nonprofit is currently branching out and taking on this very project to say we don't wanna have a book, but we also wanna, have something where we can get together in a small group setting and wrestle with some of these topics over the course of a couple weeks of, if you are interested in that, please reach out at, [email protected].
Garrett:
Lisa, we wanna leave you at the opportunity to have the last word during this conversation. So if there's anything that's been left unsaid or that's on your mind or heart still that you wanna reemphasize, now is the time to do that.
Lisa Frost:
I just wanna say, I believe in this rising generation and I believe in us as parents, educators, teachers, anyone that really has a heart for this rising generation. I, I know we are facing major challenges, with this, I would call it digital crisis, but I think if we can build into the core of what makes these kids human, if we can really build into who they are, I think they will own their online choices and they will succeed. And that is my goal and mission for all of us. I know it can be hard and challenging, but I also have a lot of hope and wish you all the best.
Garrett:
I love that. Thank you so much for being with us today.
Lisa Frost:
Thank you.
Outro:
Thanks for joining us on this episode of Consider Before Consuming. Consider Before Consuming is brought to you by Fight the New Drug. Fight The New Drug is a non-religious and non-legislative organization that exists to provide individuals the opportunity to make an informed decision regarding pornography by raising awareness on its harmful effects using only science facts and personal accounts. If you'd like to learn more about today's guest and the conversation we had, you can check out the links included with this episode. If you find this podcast helpful, consider subscribing and leaving a review. Consider before Consuming is made possible by listeners like you. If you'd like to support, Consider Before Consuming, you can make a one-time or recurring donation of any amount at ftnd.org/support. That's ftnd.org/support. Thanks again for listening. We invite you to increase your self-awareness, look both ways, check your blind spots and consider before consuming.
Fight the New Drug collaborates with a variety of qualified organizations and individuals with varying personal beliefs, affiliations, and political persuasions. As FTND is a non-religious and non-legislative organization, the personal beliefs, affiliations, and persuasions of any of our team members or of those we collaborate with do not reflect or impact the mission of Fight the New Drug.

A database of the ever-growing body of research on the harmful effects of porn.