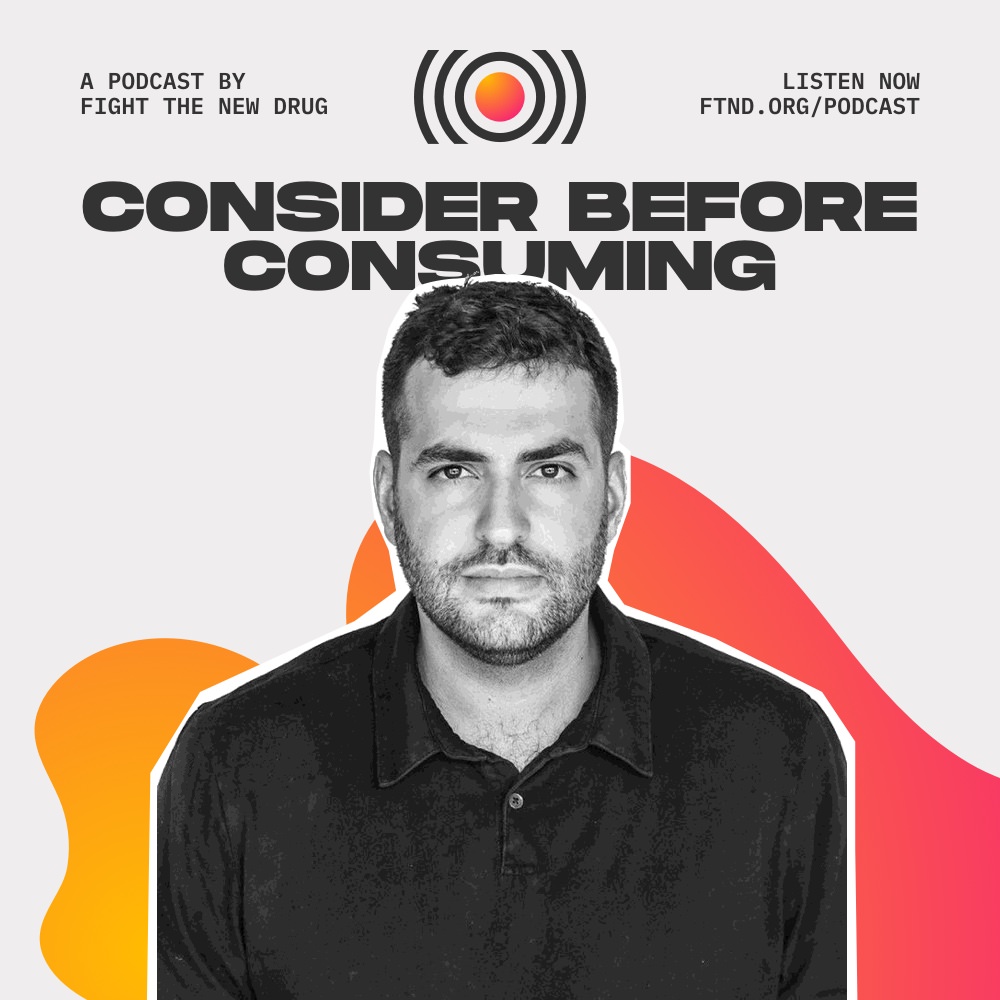 Episode 10
Eli Nash
Entrepreneur, Recovering Porn Addict, & Activist
Trigger warning: The following podcast episode contains graphic descriptions of childhood sexual abuse- listener discretion is advised.
Eli Nash shared his hardships on the TEDx stage in his talk titled "Escaping Porn Addiction." and now he's telling our listeners his story. What started as an appeal to women's clothing catalogues at a young age quickly turned to an appetite for internet porn, leading to an addiction to pornography that would follow him well into adulthood. It wasn't until things got too far in reality that Eli realized that porn was more than a fantasy: it was, as he says, the very thing that drove him to be unfaithful to his now wife. Never wanting to hurt her again, Eli has now vowed to make it his life's priority to never again see porn. Listen to Eli as he shares his story with podcast host Garrett Jonsson, describing how he decided to come forward with the truth about his addiction and his early childhood sexual abuse that may have played a part in it.
Garrett: What is up, people? I'm Garrett Jonsson, and your listening to CBC, a podcast by Fight the New Drug.
Before we jump into today's conversation, I just wanted to remind you guys that change begins with one, that's the theme during this #NoPornovember and it's the truth. Change begins with one, so I want to challenge you to do your part- whatever that may be. There are countless ways for you to get involved. For example, you can share a FTND blog post, rep some of FTND's merch, donate by texting CONSIDER to 43506, host a screening of the documentary- Brain, Heart, World, you can start a meaningful conversation with someone you care about using our conversation blueprint tool, you can coordinate a live presentation in your area, etc. Another opportunity to get involved is coming soon, Nov. 22nd is #RepTheMovement day. So we invite you to post on your social media on Nov 22nd, using #RepTheMovement- that's Nov. 22nd- so put it on your calendars.
On today's episode we sit down Eli Nash. Eli is from the east coast, he's a husband, father, entrepreneur, public speaker, and so much more. As a child, Eli experienced childhood sexual abuse, which has had many negative impacts in his life; later in life Eli gradually developed an addiction to pornography and sex, but was in denial for a period of time. His addiction led him to being unfaithful to his girlfriend (I just want to be very clear, he cheated on his girlfriend, who later became his wife after some healing. During the conversation Eli says "The explanation that I had to give my wife, was that I cheated on her" but they weren't married at that time. For Eli, his wife, and their family, I think it's important to make the clarification that he didn't cheat on her while they been married.) After he told the truth, they decided to take a break and allow Eli to work on himself. Through honesty, education, vulnerability, and action he was able to transition his mindset back to a healthy state. He reconnected with his girlfriend, they married, and now they have a couple kids together. I really enjoyed this conversation with Eli, I love his experience because it shows that trials can be turned into triumphs.
The following podcast episode contains graphic descriptions of sexual abuse- listener discretion is advised.
We hope you enjoy this episode of Consider Before Consuming.
Garrett: We want to welcome to the podcast, Eli Nash. Eli, how are you doing today?
Eli: I'm doing wonderful. Thanks for having me. Garrett.
Garrett: Yes, absolutely. Thank you for being here. And the reason why I reached out to you is because you have done a Ted talk recently. When did you do that? When did you record that?
Eli: It was in April, I believe. Yeah, mid April.
Garrett: Okay.
Eli: And then it took a couple of months to release.
Garrett: Yeah, it just released pretty recently. And I was looking at the Ted talk and a, well the name of the tech talk for our listeners is, Escaping Porn Addiction. And as of the time we are recording this, it has 178,927 views. So, uh, how does that feel, Eli, to know that 178,927 people as of right now, know, that you had a challenge with pornography?
Eli: [laughter] It's, it's, it's been a wave of a bunch of different emotions to be honest.
Garrett: Yeah, I can imagine.
Eli: So I guess I'll, I'll take you into this story cause I like stories. I'll take into the story of how I came about to make that decision. I guess it was a part of me that always knew I was going to do a talk or a Ted talk. I had no idea what the subject was going to be about or when I would do it. But, uh, four or five years ago I saw the experience. I had the experience of sharing parts of my story and my story then, or that element of my story was being sexually abused for a three year period as a child. And I carried a lot of shame around that. And one day I decided that I need to speak about this and what the reason I wanted to speak about that was not for my own personal benefit. I didn't realize that there was going to be personal benefit to, it was just that I knew what happened to many people and I didn't feel that adults were doing enough about it, especially where I grew up. I grew up in a very religious environment and in that environment, um, for whatever reason, you know, sex can't be mentioned and sex abuse can't be mentioned. So it's almost as if a kid would say something, "Hey, this happened to me.", they were shut down for, for saying it. And I felt like I had an important message to share around that I shared. And I found that not only to be effective in terms of helping to change the conversation in the community where I grew up in, but it was phenomenally healing to do it. And what I mean by that specifically is that I found a lot of like I, I, I felt like I am covered the gift by sharing my story.
I felt like I'd covered the gift in my story. And it's created a connection between me and many other people. Probably the, the most, um, clearing example was when someone reached out to me after I talk after a talk I gave up in New York and he sent me a message and he said, "You know, I've never realized the way abuse my abuse affected me until I heard you talk about it. And I realized that some of what you're dealing with today, I also dealt, I'm also dealing with, but I disconnected it from the abuse." I said, you know, there were kind of two separate things. My life is shit, today is one reality. And I was abused 20 years ago, but that can't really be playing a role. And my central message and my talks was that no sex abuse is a lifelong sentence. And the fact that in the sense that someone doesn't have to be a victim forever, but there are going to be struggles that come out of that, that that's just someone's life, uh, because of sex abuse. And when he heard that, he told me he checked himself into rehab because he was dealing, I believe it was with drug addiction, but it may have been alcohol addiction. And he checked himself to rehab, understanding that, Hey, there's some stuff that he's got to deal with. And that hit me hard and said, wow, you know, I can't imagine how many people in this guy's life were really excited to hear that he's taking this problem seriously, finally. And my talk, you know, I have, I have family members and relatives who struggle with addiction. And I know how important it was for me to how much value it would be for me to be able to get them to take that seriously. And I have no, and I've had multiple conversations about it as have others in my family. So imagine a speech that I gave is what influenced this guy to have to go to rehab. I was like, wow, there's a lot of power in that. And we connected over that and I realized the power of sharing one's story. So fast forward four or five years later, and now I'm in a completely different situation. I'm married, I have two kids now. At the time of the Ted talk, I had one, but I, I knew I wanted to share, but I also realized that I'm not just dragging myself through this. Right? Because it's one thing when you say 178,000 people know that, um, I'm addicted to porn. But now when my wife, her family, her friends know that she's married to someone who struggles with porn addiction.
Garrett: Yeah, there's ripple effects and she's dealing with a different aspect of it. Right?
Eli: Yeah. You know, the first thought that came to my head when I, when, when Ted published the, the talk…
Garrett: What was it?
Eli: … my son who's one years old is one day going to be a teenager. And if someone looks up, looks up his dad, probably the first thing that's gonna come up is going to be that Ted talk, you just Googled my name, the first thing that comes up now is that Ted talk, because of their reach and thats…
Garrett: Yeah, that's intimidating. That's a daunting thought in some ways.
Eli: It is. And I was like, "Oh shit, what did I do to him?" [laughter]
Garrett: [laughter] Right. And we, I chuckle, but I have three kids as well. And I also have had a challenge with pornography and um, I did some projects that aren't out on the internet as well to build awareness. And so I can kind of relate to that a little bit so I can understand that. But, um,
Eli: How did you deal with that? Maybe you can help, maybe can help me.
Garrett: Yeah. So my…
Eli: It's still a thought.
Garrett: My, uh, process of healing, that transition of mindset, um, my, the way I destroyed the shame was very similar to the way that you've destroyed the shame in your life was through sharing your story and your experience. And what I did after I heard about the science facts and personal accounts around pornography that released some of the shame because I realized that I wasn't the only one dealing with it.
Eli: Right.
Garrett: And, uh, so the education helped me, but then even further than that, I saw that not many people were talking about this challenge. And so I, I was about to turn 30 years old and I am decent at endurance events. And so I ran 30 marathons in 30 days wearing handcuffs, representing like the addictive nature of pornography. And then…
Eli: Amazing.
Garrett: And after that I rode my bike across the United States from Virginia to San Francisco dragging chains, which represented the heaviness of addiction. And by day 21, those chains, the carabiners that held the change to my bike had worn away. And, um, so I finished out and, and finished in at the Golden Gate Bridge without any chains and my wife rode the last mile with me. So that's kind of how my, that's how I shed the chains of shame. And so anyway,…
Eli: The image of that just gave me chills right off the chains kind of falling off over time.
Garrett: Well, yeah. And as you spoke about your, just as we've spoke over the last few minutes, and you mentioned like your sexual abuse as a child and, um, and then using that terrible experience for good in, in the world for healing yourself and heal yourself and then helping heal others. I also got chills a few times as you were talking about that. Um, and that's one thing that I'm so amazed at by you Eli, is that, um, that you're willing to share and that you have a very unique perspective because you've gone through the shame, you felt the shame, um, and you've turned that terrible experience into something so powerful. And um,
Eli: Do you recall how you…. No, go ahead, ask your question.
Garrett: No you're good, what were you going to say?
Eli: I think we're going in the same direction. So we're going to say what I was going to say is, do you recall how you, when you said that you got rid of shame by realizing that you're no longer alone, you're no longer the only one you use some sort of phrase like that
Garrett: Right.
Eli: That's the antidote to shame. I think shame feels so powerful and intense and something that we'll never be able to relate, release ourselves from.
Garrett: Right.
Eli: When I get messages from people, and I've been getting every day since the Ted talk, some amazing messages. Oh, I can read a couple. Yeah. Just "Hi Eli, Hope you're doing well. Just just wanted to share with you that as of today, I am two months off porn and I really can't thank you enough for all your support in this process. I'm really blessed to have you in my life." This guy saw my talk very early on and we spoke about it. Um, "Thank you for your Ted talk about porn addiction. I'm 20 years old and I've been fighting it for eight years. Thank you for talking about it. It means a lot." And just these messages, I mean it's that when I read that message, I may be imagining some things, but this guy tells me he's 20 years old. He's been fighting it for eight years. Um, I don't think he's told that to too many people. I don't think I'm in a large group right there.
Garrett: Right.
Eli: And that's what I imagined was like, okay, this person just shared that with someone else. I can respond with something positively and hopefully he can share. Um, he can share that with a third person.
Garrett: Right, exactly, it's a ripple effect.
Eli: And eventually get help.
Garrett: It's the butterfly effect of your challenge is and sharing that challenge.
Eli: I'll tell you, I'll tell you a cool story is, um, we're working at a, on a project like a documentary project that not related to porn addiction just in my business and, uh, because I talk about porn addiction in one of the conversations that were recorded between me and this other individual that, um, that's the feature of the documentary. He, he mentions porn and he's, he started asking me a lot of questions about porn and how it affects his life. And on and on, we're going, uh, two or three days later I get a call from, um, I don't remember if he was the video guy or the sound guy, like one of the production people in the room who you're not even paying attention to, right? I'm sitting there having a conversation with this guy and these are the professionals documenting the, the conversation.
So one of them reaches out to me saying, you know, "Can we chat about something?" And I thought it was a business conversation. And I said, "You know, I'm not the right person to talk to this. Someone else handling that." So he said, "No, it's kind of personal." And um, so I said "What's up?" So he said, uh Oh, got on the phone and he says, um, "Do you know as soon as you, uh, as soon as you guys started talking and the conversation went to porn addiction, it was like my heart dropped because I've been fighting for this since I'm 15 years old." The guy's probably in his forties today. "I've been fighting this and some 15 years old, I've never told anyone. I once brought it up in passing about 10 years ago in a therapist office and he looked at me funny and I never brought it up again."
Garrett: Interesting.
Eli: He's married, he has a couple of kids. We spoke about it and I said, listen, at some point in time, he said, "How did you get over it?" And I said, um, "I, I don't know that there's one way, but I basically made it my top priority is the best way I can answer that question." And I said, "Whatever I need to do in order to kick it, if it's legal, I'm doing it." And I said, "That was the approach. I imagine as part of that, if you take that intensive and approach as I did, you're going to have to talk to your wife at some point." He said, "I can, I can never imagine telling my wife." I said, "My wife's been very supportive. I can't guarantee you that's going to be the case. I just, I really don't see how you're going to invest yourself in a process of getting rid of this and putting, you know, the blocks and controls and whatever else you needed. You figured out you need to do in order to do that without your wife. Knowing it just seems pretty difficult and that secret also creates pain. I'm not saying it has to happen today, but at some point in time that conversation may have to take place."
Garrett: Right.
Eli: The very next day I got a message from him, said, "I spoke to my wife about it. She's been, she was so supportive. It was a great conversation. Thanks so much." Those are amazing.
Garrett: Wow, that's, that is amazing. It puts a smile on my face to be honest, to hear those kinds of stories. I'm so Eli, what was your, talking about, um, telling your significant other that you have a challenge of pornography. How was that for you? What, when did she find out and how did that happen?
Eli: So in my case, um, it didn't start with it didn't, it, my journey didn't end with pornography. It, um, it progressed beyond pornography and the exp, the explanation I had to give my wife was that I cheated on her. She wasn't on at the time, but I'll share a little bit of my story and I think it may help. But, um, like I, like I said, I went beyond pornography and I only realized afterwards how insidious pornography was. I thought it was the best of the behaviors I was engaged in. Prior to getting into pornography. I don't think it starts there for a lot of people. For me, it started, and I share some of this in the Ted talk. It started with, um, magazines that showed up to the house, you know, whether it was J crew catalogs or, um, I don't even remember some of them.
Uh, and you know, the more exciting days were like a Victoria Secret or a Sports Illustrated Swimsuit would show up and then, you know, I would have this material. One of the things I did is I stored these all over the house and you know, I'm 34 today, right? So some of what I experienced is kind of pre-internet or pre the explosion of the internet since it's certainly pre smartphone. So I don't, I can't even imagine what it would have been like as a child if I had access to these devices cause I had to go through great lengths to just get what I needed.
Garrett: Yeah. On your Ted talk, you talk about the magic a mailbox and today kids are dealing with that magic mailbox right? In their pocket. Kind of like what you're saying.
Eli: Yeah. And I, I experienced that progression exactly. At first the magic mailbox was the physical mailbox in my home.
Garrett: Right.
Eli: And then eventually it became the computer, the, the internet itself, which then was dial up. But at the same point in time, you know, when I progressed from the magazines hidden all over my house, eventually, um, I guess we're late nineties at this stage and my sister had one, a computer, there's actually a cool story and talks about someone's wanting to do, I watch porn or I'm an addict. If you got a story like this, you're an addict. So I know that's it. So it's probably 13 years old and my sister won a, um, uh, computer from some sort of auction sorts, right? You put 10 bucks in and they draw a raffle and she want to remember a Compaq Presario computer. She's real happy with it, you know, she set it up, but it was her computer and she used it for her work and her games and everything else at night.
I can use the computer, but only if I asked her permission at night, I would sneak onto the computer and I started watching porn and mostly pictures and I would download and save the pictures onto different, um, areas in the computer, different folders in the computer. And I just didn't engage in this regularly. Just kind of saving these pictures. I don't know if my sister knew what I was doing. I actually never had the conversation with her. Maybe this podcast would stimulate that, [laughter] but I, I, um, she started locking her computer and I wasn't happy with this. So I started researching ways that I can get around locks and there are some, you know, like common law, you can go safe mode and stuff like that. And with each lock that I got around, she would, um, add a different kind of lock on it, different kind of password.
So at one point she installed a password that as soon as the computer turned on up, even before the, like windows booted up, the very first thing was that a password popped up. And I was like, "Okay, how am I gonna get around this?" I don't have the safe mode. I can't go around, you know, come in with lower access, upgrade my access. I couldn't do anything. And I was learning these tricks, not because I knew computers, but I was researching in order to be able to watch porn at night.
Garrett: Right.
Eli: And, the lengths we go.
Garrett: That's what I was thinking. That's some, uh, I don't know the words. You're, you're, uh, you're persistent trying to find that, that nudity.
Eli: Yeah, that's, that's exactly what it was. And that's why I say like, if it goes to this length, it's not just the habit, it's an addiction.
Garrett: Right.
Eli: So then, you know, I continued researching and I knew a couple of, you know, guys in my school who had more experience with computers and I described the password. One of the guys comes over to my house, looks at and he says, I think I know how to get rid of this. And he don't, if I take apart the computer, there's a little tiny battery. I don't know if computers are still made this way, but there's a little tiny battery in there that even when the computer is off, it's kind of responsible for maintaining the time and the date and things like that on the computer. Right? Whenever we turn on into computer, even if you unplug it, that's still there. He said it's that little battery that's responsible for that said if you can go in there, find where the battery is, remove it, keep it out for a couple of minutes. When you put that back in, that password should be gone.
Garrett: I feel like I'm watching a movie right now. [laughter]
Eli: [laughter]
Garrett: So I think that you found your niche of storytelling cause I feel like I'm watching like Ferris Bueller's day off, like, porn edition, or something.
Eli: Yeah.
Garrett: Okay. Keep going right here.
Eli: So anyway, I got done, I got through the computer that time the password was gone and after that my sister just completely gave up and I was able to use the computer whenever I wanted and it was really nightly, would a, was I would watch. And at the time I was Sabbath observance so I couldn't use a computer on the Sabbath. And that's when I still continue to use the stash of, um, different catalogs or magazines that I had. I, um, so I got into this because you asked me about my wife and how she found out when I was fast forward a few years.
I'm in school now in Canada and in Canada that drinking age and pretty much all ages is 18 years old. And a friend of mine started talking about strip clubs and he, um, I told him, you gotta take me to this place. Like I didn't even know that such things existed. Hey, see some things on movies, but you know, three or four blocks from my school where I was going to, there was a strip club and, uh, I told him "You got to take me." And he took me one time and that was a game changer for me. And you know, all of those things that I'd watched on porn, now be able to experience, live and feel, you know, the touch and everything else was exhilarating. And that started, um, a pretty progressive, um, escalation into that world, right? Strip clubs. And, um, beyond that, if you just kind of imagined.
Garrett: Right.
Eli: And when I met my wife, um, eight or nine years later, I was engaged in these behaviors. On a, on a regular basis, a lot of pornography, a lot of strip clubs and um, you know, a lot of, a lot of pornography, a lot of strip clubs and just a lot of focus on women in general. And um, even while dating her, when I first started dating her, I thought she was different than I mentioned this in the Ted Talk that for a few months I was off. I was like off the hook. I didn't want to watch porn. It was like when I started CrossFit, CrossFit and dating her were the two times that I stayed away from porn for like two or three months inexplicably. And I was like, "Wow, I'm cured." And then it, both times they came back, but with CrossFit I didn't feel like I was cheating on CrossFit with my wife. I did. And then the worst I felt about the porn, um, the more I, the more I began engaging in the behaviors that are beyond porn because that are because of that chain cycle. And I started going doing all the same behaviors that I was engaging in previously, like the strip clubs and reaching out to all, you know, other women I had dated in the past or had flings with. And eventually my wife found out about that. It was extremely uncomfortable, but it was one of the most powerful moments in my life. I, um, the reason is is because I realized how much I hurt her when I cheated on her and when I realized how much I heard her, I realized how much she cares about me. And yeah, to this day, it's one of the things that keep me sober. Um, one of the things that keep me away from porn is that I know that not only can I never get away from porn, but I know that it'll get me back to all those other places that I want to stay away from.
And I'll, I'll have a very difficult time staying faithful even if we don't consider porn cheating, but staying faithful with it in another human being. Porn, porn will take me there and I just know it and I have this picture in my head, like seared into my brain of the look she had on her face when she found out I cheated on her and it just shattered glass, is the only way I can describe the look just completely broken person and seeing how I can hurt someone so much. I said, I don't want to do that to another person anymore. I don't want to hurt someone that badly. And it also made me realize that I matter that my decisions, you know, I guess I had such a low self esteem that I thought what I do doesn't matter to anyone and it doesn't like what you really care. If I cheated on her, I couldn't even imagine she liked me that much. And that experience is one of the um, like kind of the bottom that addicts talk about. Like that was a bottom for me, realizing I wanted to be a nice guy. I want to do right by people. And I heard this other human being so badly because of what I did and I said, "I'm done. I don't want to do that to someone again."
Garrett: So do you consider that your biggest aha moment when she found out the truth?
There were a number of different ones. Another one was finding out that I was addicted. I did not, I did not know that there was such a thing as, um, porn addiction or sex addiction. I couldn't imagine that it even existed. We hear a lot about drug addiction and alcohol addiction, but we don't, um, we don't hear that much. I mean, you guys, obviously you're in that world and you're talking a lot about the effects of pornography and how it's just like a drug. It's in your name, but that's, I think, part of your point and your name, right? Like, Fight the New Drug. This is a drug. This is not some harmless behavior. It's, this is as powerful a drug as exists, if you understand the science behind it. And, um, I had gone to therapy, uh, several years before meeting my wife to deal with the effects of the sexual abuse.
And as I was working through that, um, my therapist suggested that some of these sexual behaviors I was engaging in may be compulsive and he gave me a book, I don't know if you've ever read it, it's called out of the shadows by Patrick Carnes Ph.D.
Garrett: No, I haven't.
Eli: So Patrick Carnes Ph.D, is pretty much the father of the sex addiction movement. He's the one who, as far as I, as far as I know, he's the one who considered sex and addiction, the whole addiction field. And all of this is relatively new. AA is belief founded in 1930s and a lot of these programs that others look at today's gamblers anonymous or food and non food addicts anonymous or Overeaters anonymous or sex addicts anonymous or Sexaholics anonymous. All of these weren't always viewed as an addiction. And Patrick Carnes I believe was you. He was the most vocal about it.
Whether he was the first one to say it, I don't know. But he was the most vocal about it and he wrote a number of books on the subject, one of which was out of the shadows. My therapist gave me the book and few days later I returned a Tam and I said, this isn't me. I was probably about 23 or 24 years old. And the reason it wasn't me is because I had never really tried to stop. I try, I made promises to myself that I would stop, but I never went through actual serious efforts to try to stop. I was ashamed of the porn. I was ashamed of these things, but it wasn't like this. It wasn't what I did afterwards, which was a real concerted effort to stop, which happened after I started dating, um, my now wife and there, I did make a concerted effort to stop. And the more I tried to stop, the more I did it.
Garrett: Interesting.
Eli: And that's when I went back and read the book again and I was like, wow, this guy Patrick Carnes Ph.D. is pretty smart. He learned a lot about me in a few years.
Garrett: So, so the more you attempted to stop once you gave it that, that true attempt, the more you attempted to stop, the more you consumed, the more you engaged in that behavior?
Eli: Absolutely. Yeah. I thought about it much more. My first attempts at trying to stop said, okay, I can't, this is before my wife found out. Right. It was just my own shame. I started watching porn again. I said, okay, I can't, I can't do this. I can't do this. And a lot of shame came over me and that night I was like, you know, I'm not feeling so well. And I just, my car, somehow there was like this magnet in my car and then the local strip club and it just felt like it was pulling my car there. I don't know another way this guy, but I was like, I can't do anything else but drive there. And then I felt bad about that. So, you know, then so then I called an ex girlfriend and then I felt bad about that and it just, it kept, it kept spinning further and further out of control.
Garrett: Interesting. I think, I think it's interesting that you've mentioned like this magic mailbox and this magic magnet, like the car pulling you towards that strip club. [laughter] Um, it's, it's something that we can kind of chuckle about now, but the reality is, is that such a real thing that people deal with where they're wanting to change, they're wanting to make a difference. They're trying to become, um, uh, they're trying to stop this unhealthy behavior. But like you said, this magnet is, is, it's attaching them to it, it drives them to it. Um, so you said that was your first aha moment? Your biggest aha moment was…
Eli: We'll do a couple of different ones. There wasn't one, but recognizing that I'm an addict, like then also realization was like, "I'm trying to stop. I read that book again and I was like, Holy shit, I'm an addict." And I had disdained for addicts. I missed that point. I had a lot of disdain for, um, drug addicts and alcoholics. I looked down at them, I seen a lot of it. Um, and I just, I was like, wow. I'm like, what's wrong with these people? Why can't they get themselves together?
Garrett: Well, it's a heavy word addict.
Eli: Yeah.
Garrett: So of course, at 24 years old, you don't want that. You don't want to admit that you're addicted.
Eli: It's huge. I mean, the addiction lives in denial. That's the bottom line denial about how real it is. Denial about the consequences to ourselves and others. There's just so much denial so much. Now, someone who reached out to me about a talk, I said, "How do, how do I know if I'm an addict?" And I said, "Have you ever tried to stop?" Like "I don't know if I'm addicted to porn." I said, "Have you ever tried to stop?" So he said, "Yeah, a bunch of times." So I said, "Okay, then you may want to consider it." He says, "But it keeps me from cheating on my wife." So he tells me, "It keeps me from cheating on my wife." I said, "Does your wife know that you're doing this?" He says, "No." So I said, "Well, if you define cheating a little more broadly, if we define it as lying or if you define it as taking away everything you have to offer someone than you already are."
Garrett: Right.
Eli: You know? So…
Garrett: That deception.
Eli: So, uh, that, that to me is an example of just, it's denial, "I'm engaging in porn because it keeps me from cheating on my wife." So you're telling me the reason that you're engaging in porn… you're telling me the reason you're engaging in porn is to be good to your wife. I mean, that's, I want to be better to her. It's coming from like this altruistic place. Like "I just want to be good to her." Like, come on man, don't kid yourself. You can't stop watching porn.
Garrett: Yeah.
Eli: You watch it because it makes you feel good and that's not, not so that she doesn't feel worse because if she knew about this, she'd be devastated.
Garrett: Right. Did you ever have a followup conversation with this guy?
Eli: I haven't, no.
Garrett: Oh, interesting. Um, so one question I have, Eli, is going to your, your sexual abuse as a child. Do you, you talked about the magic mailbox is kind of your introduction into that high that pornography can give you and then it progressed towards your, your sister winning the computer and then at 18 in Canada, the strip club, three miles away from your school. So that was some of the progression, but do you think some of it stemmed from your abuse that you received or that you were a victim of?
Eli: I would imagine so. You know, just in terms of the, um, the type of porn that I like to look at I think was, or where it got to. Yeah. I think it mimics some of those things. Right? I was, um, I was locked in a room, and mounted by a guy, I was unable to move my arms, um, unable to move my legs had a very, very difficult time breathing while he brought himself to orgasm. And yes. So is it any mistake that some of the, the categories of porn, you know, you guys talk about this, a lot of Fight the New Drug, which I like, is that we're, we're not, we're not watching missionary porn. That's not…, we're not watching, I just heard someone call it 'hands off sex'. We're not washing missionary sex. That's not what's going on. Are you talking on hardcore bondage beating people? I mean there's some very abusive stuff that are being watched. And I think that I certainly was recreating some of those, um, early feelings in me. I was recreating there is, it led me to point to begin with. I mean, listen, women are attractive, right? There's… there's some natural stuff that goes on.
Garrett: Right. So biology…
Eli: There's some biology that plays into it. I mean, everything plays into it, for sure. But I, you know, I don't think it's a mistake that, um, I was abused sexually and I became a sex addict. Do you know, in terms of the sex abuse conversation, someone, um, you know, people often have these conversations, these, these questions for me after I speak is "How do I know if I'm a porn addict?" or "How do I know if I was sexually abused?" So, you know, sexually abused as kind of a, a vague term. I don't know what it means. And exactly where someone went. Let me simplify it. And the way it, one way I simplify to say, "Was your sexuality abused?" And when you look at it that way, if a kid at seven years old happened to see pornography, no one introduced him to it. He just stumbled into his, stumbled onto his father's porn collection at seven years old. Or now in today's day and age, he stumbled into it on the internet, that abuses a kid's sexuality. I don't know any other way to say it.
Garrett: Wow. You're right.
Eli: And then the templates change after that. The templates change.
Garrett: Wow. I've never heard it said that that way before. Um,…
Eli: The abuse, sexuality, that the sexuality is abused?
Garrett: Yeah. I liked your question of was your sexuality abused and how porn can abuse a person's sexuality.
Eli: Yeah. I've had a lot of, there isn't only one aha moment, that's, I don't know how to exactly that, but a major aha moment for me. So I live in, um, I live in Miami beach and I go to recovery meetings. Um, I meet a lot of gay people in these meetings and having conversations with them has enabled me to just hear a different side. So I'll give you a couple of different stories. One was a five or six year old kid who's I guess was exhibiting certain, um, tendencies at a young age that made his father worried that he was going to become gay or he is gay. And his father at very young age, a very young age, began showing him pornography so that he doesn't, he doesn't go in that direction and teaching them how to masturbate and playing with him in order to get him aroused from, um, from the, from pornography. So those kinds of things. And he was so confused. Like, was I sexually abused? Was my father trying to give me a lesson? What was going on there and whatever was going on, his sexuality was abused, um, at that, at that place.
Garrett: Most definitely. That's sad.
Eli: Yeah. And, um, one other, um, story, which eventually I realized that porn is almost worse than strip clubs and almost everything else I was engaged in and not from a relationship standpoint, my wife would be much more devastated, I'm sure if I slept with someone else than if I watched pornography. Right? However, I'm simply from a recovered standpoint, there's something about there being absolutely no one there. Like the total isolation that pornography allows for that I find is much more destructive and that I've come to realize that an on some level is much more destructive than some of the other stuff that I've done. Even though those have more risks and health risks and are more dangerous. And all of that world is much more, has the, the world is more dangerous physically. But the danger of pornography and what it's done to my mind and you know, it's not as if when I stopped, I, I have never watched again. I've stumbled a bunch of times, but the last two and a half years or so, almost three years I've been clean.
Garrett: That's awesome. Congratulations. You're, you're accomplishing your number one goal. As you shared on the Ted talk, we're going to link the Ted talk to this episode. Um, you mentioned that you, your number one goal is to never look at porn again and, and you're, you're accomplishing that goal day by day.
Eli: Yeah. I should clarify that because I heard someone, um, some, someone misunderstood that from me. What am I like my number one goal, like my goal in life is not to watch porn. Not exactly. It's my barometer of how well things are going in my life is whether or not I'm watching porn. So if I'm not watching porn, I'm like, that's my goal. My goal is Ted. If I can stay away from porn, then it's assigned that the other things in my life are going relatively well. That's what I meant by that. Not that my end all. And Beal is not to watch porn cause you put me in a coma and I don't watch porn and that's not my goal.
Garrett: Yeah, that's a good way to put it. That's a good clarification. Um, can you talk to a little bit how the progression happened with pornography? Cause you started off with the magic mailbox, like the literal mailbox and then it progressed towards downloading pictures and saving them in these files. And then you mentioned some, some harder core stuff later on in life with the smartphone and being available. And as that progressed, I just was wondering, did you notice, were you aware at the time of the desensitization happening?
Eli: Oh yeah. Yeah, because I was crossing lines that I said, um, I would never cross. So when I started, not only that, I shouldn't even say that I was crossing lines of things that once repulsed me. Right. So the first time when I was 13 or 14 and I saw a total nudity even, Oh, let's take it, we'll be a little graphic. I saw just toplessness I was like, Whoa, I would start. But I hadn't seen that before. And that wasn't nearly as attractive to me as seeing someone fully, not fully clothed, but seeing someone saying a bikini.
Garrett: Right.
Eli: And then the first time I saw, you know, complete nudity, I was like, "Whoa. Like, what the hell was that?" And each one stunned me or I didn't like it at first. And then eventually I started, eventually I started, I was like, Whoa, this stuff that I once didn't like, now I enjoy more and the other stuff is not even interesting for me anymore.
Like a Victoria's secret couldn't even get me excited after awhile. Now I had this stuff then, um, you know, when I started it was really dial up internet, right? So you're downloading a picture on one of these websites and it can take 45 seconds for the picture to show up on your screen. Fast forward, you know, seven, eight years and we're, you know, you're watching full on videos of some very graphic stuff. So yeah, sure. I was very aware of of the, um, of the progression. And then you'd all talk about this because I think a lot of people struggle with this and a lot of people have reached out to me struggle with this, is that the, the porn starts crossing lines that start making you question your identity, your sexual identity. So you know, you're looking across something and you see stuff that are very physically abusive. I say I see something very physically abusive. It's like "Whoa, like why would someone do that to another person?" And you watch it and it's kind of like a little bit of a turnoff and I feel what you would watch UFC at all?
Garrett: Yeah.
Eli: Like the first couple of times I watched UFC, I couldn't get past the blood and the Gore. Then afterwards, now I enjoy watching the flight. So it was kind of the same thing. It was like, "Whoa. Like why would you do that to another person?" And then I started enjoying it. But then, I mean I know a lot of people, um, and me included who while you exploring it has gone into gay porn or transsexual porn or porn that is completely not in line with who you view yourself or why viewed myself. So what is like, what's going on here? Yeah. So they're actually lines that are, that are crossed. It then start bringing into real questions about yourself and your own identity and did I enjoy that? Then what did I like about that? I mean, yeah, for sure. It gets very, it gets progressive and it gets progressive fast and it gets, um, and the effects are very real.
Garrett: Right. Wow. Well,…
Eli: And I've had this conversation with a lot of people, right? I wouldn't be a voice just me and one of the guy who ran into, I probably wouldn't be able to, to bring it up, but I've had this conversation with so many people where the porn has just progressed. Parts of two ways that they completely don't view themselves and they start questioning their who they are.
Garrett: Well, we get thousands and thousands of emails from people and a portion of those are people who are expressing similar things that you just expressed. And so it's very common for this to happen. And so you're, yeah, you're, you're not alone in your experience. Sharing your experience is helping other people realize it's, it's helping them increase their self awareness because I think a lot of people, my original question was, were you aware of the desensitization? I think a lot of people in the moment, they may be aware of it, but it's like this subconscious awareness. I don't know. I'm no therapist, but it's a weird concept because looking back on it, they might see it more clearly, but in the moment it's a little bit hazy.
Eli: Right. So the, the part of it that's hazy is that I've just crossed four boundaries that I said I never would write. I wasn't going to go to nudity. I wasn't going to go, going to go to Fulton, I wasn't going to toplessness, full nudity. Um, you know, then you know, more, more extreme versions of stuff that, you know, some stuff I mentioned with a bondage or gay or transsexual or whatever it is, and to say, "Okay, what's next?" Like what I, that's where there was blurred at some point in time. Essentially what happens is I think what's interesting about porn and you want to talk about another aha moment, it's interesting, my point, it's a novelty of porn is just this endless novelty that exists. We can watch this plus the next person plus the next and just there's so many different, um, so many different variations of people and things that they're doing that make it exciting and people that they're doing it with.
And, uh, I'd come across on YouTube a interview and it was something like Why I Stopped What, Why I Left the ?Porn Industry, I think it was called. And a woman, um, was Explo female porn star was explaining why she's no longer a porn star. And what happened is, is that she had walked in on her boyfriend masturbating to porn. And in that moment she had this realization that people who are engaging in porn are not there because who they're watching in porn is more attracted than their partner. Because until then, she was able to lie to herself and say, you know, um, "I'm much more attractive than most women. And that's why there are men all over the world who are masturbating to pictures of me or to images or videos of me having sex." But in actuality, the one person in the world who she was okay with having sex for free, had no interest in having sex with her at that moment and instead was watching someone else in pornography and that's when she realized what she's feeding into and she left the industry. And that's what porn is. Porn is not, um, I don't like this. So I like that it's going to be progressive for most people because of the novel aspects of it. And that's one of the things we're feeding is the novelty of porn.
Garrett: Yeah. The, the, you mentioned this in your Ted Talk on the year end review that this certain website, um, puts out every year. You mentioned it's like 90, I think in 2018 it was 92 million hits per day on this single website. And um, you mentioned like over 4 million basically, almost 5 million videos, new videos uploaded to this one single website. Like the, the novelty is endless. Um, one thing that I've heard and it stuck with me for a long time, is that if you want to be, if you want to feel peace on your deathbed, then try to avoid being deceitful, resentful, and arrogant. And it's interesting cause I feel like porn fuels all three of those attributes.
Eli: Deceit, I see. Um, arrogant. Okay.
Garrett: Arrogant because arrogant. Because porn, oftentimes it's a selfish act, at least in my case it was, it was about instant gratification. It was about selfishness. It was about me thinking that I, my biological urge was more important than my relationship with my wife.
Eli: You know, what I heard there also is when I'm watching a porn scene on edge of most people is you're stand in for someone there, meaning what's happening, the fantasy is that I am one of the people in that video.
Garrett: Right. I think there's a whole genre of pornography called POV point of view. Porn meaning that you, the, the camera angles are that you are there.
Eli: Okay. So now, right, so you talk about the progression. Talk about the progression. So I missed this. I guess this is I guess a new one with VR or stuff like that. Fortunately, I missed it because since 2012, 2013, um, I've been on the fight against it. So even when I did slip, it was, you know, for an evening or something, I didn't, I didn't get to go back full force the way I used to and really explore it. But yeah, I mean that's, that's, this stuff is dangerous. You talked about that, but you see there you don't have to work to get the fantasy, I guess the POV porn.
Garrett: Right.
Eli: And so when you talk about arrogant, it's like, yeah, like I'm the man, right? Doing all this stuff. Right. There's, I see that. Talk to me about the resentment. The what, why do you feel…
Garrett: So I can say that today I'm grateful for my challenge that I have with pornography. Um, because I feel like I'm a better person because of it. Um, but at one time I was very resentful towards my challenge with pornography. It made me resentful towards life. It made me resentful towards my wife sometimes because I felt like if I was in the mood to engage in sex that she should be too, it put forth false expectations and those false expectations perpetuated resentment.
Eli: Interesting. Um, resentments and addiction are often linked and it's linked very heavily, heavily in the big book of, uh, of Alcoholics Anonymous. One of the reasons I asked that because in the big book of AA, this is, I believe, a direct quote. It says "Resentments are the number one offender. It kills more people. It kills me. It gets more alcoholics than anything else." Something like that.
Garrett: Interesting. So, well, I think, yeah, I mean, in my experience, that's one of the, my biggest aha moments is when I realized that if my wife isn't in the mood to be sexual, then that's fine. It, it took about after about three years of, of addressing my challenge or pornography, three years later is when I kind of had that aha moment and I was like, "Oh my goodness.", I was so grateful for the aha moment and it's, it's, uh, freed me from resentment.
Eli: Yeah. I, I've heard that exact thing. It's like I only watched porn because my wife didn't want to have sex with me then. Okay. And when she did, you are done. And the reason you didn't want to was not because you were the middle of doing chores was because you had just orgasm that half hour ago. [laughter]
Garrett: Right.
Eli: So, you know, but that's the, that's that's the denial that this stuff allows for.
Garrett: Right.
Eli: What's it like, um, on your side, just to be so steeped in the conversation about porn? And that's, that's happened to me somewhat in the last six, seven weeks since I did the Ted Talk.
Garrett: Right.
Eli: What's it like for you? It's been a few years, since you began working with Fight the New Drug?
Garrett: Yeah. So I started addressing my challenge about three years ago, back in 2016 and I've worked with Fight the New Drug, um, for about two and a half years. Yeah.
Eli: Do you find that triggering all, I mean, to sit there steeped in the conversation about pornography and not to engage in it or you find it more helpful?
Garrett: More helpful, because if you look at one of the main steps in AA since we were talking about AA is to help another person, right?
Eli: Yeah, step 12. Yeah.
Garrett: Yeah. And so I think that is, I think there's a reason why it's step number 12 because I think it's one of the most crucial steps to, um, to continue down the path of, of healthy, of a healthy lifestyle is helping other people. And so for me, I think working with Fight the New Drug, and even before I worked with Fight the New Drug, as I did the projects of 30 and 30, and handcuffs and coast-to-coast and chains, it was all about helping other people. And I was, I was willing to take on some risk and I was willing to be vulnerable because I wanted to do my part in changing the conversation around the harmful effects of pornography and all of these things, all these conversations that I've had and all these interactions and all these studies that I've looked into have definitely increased my awareness, increased my education, and um, increased catharsis of like, or like connection. And I think that's why that 12th step is so important because they increases connection. And so to answer your question, I think it definitely has helped me. I feel very fortunate.
Eli: Interesting. Yeah. I hear that from the perspective of helping people. That's certainly been the case with me in AA, one of the, to have a lot of like little cute quotes and one of them is "We keep what we have by giving it away."
Garrett: Yeah.
Eli: So I hear it from that aspect, but one of the things that made me ask is when I was in my Ted Talk, I actually quote, Fight the New Drug. And as was researching, you know, I knew I needed a little bit of statistics in there in order to attract the audience. Most of it, most of it, I um, I spent on the story of it, but I did sprinkle in a few quotes and I found that as I was researching some of those things, I found myself a little bit more…
Garrett: Triggered?
Eli: Triggered. Yeah.
Garrett: Yeah. I think for me, knowing that porn perpetuates false expectations and knowing that porn perpetuate sexual assault and it's inseparably connected to sex trafficking, I think at this point I don't have a desire to look or we're engaged in that behavior at all. And who knows, maybe I can't say that it will never come back. But I can honestly say that I never thought I'd be able to say this either because I tried stopping so many times. I tried to walk away from this unhealthy behavior.
Eli: Do you consider yourself an addict? Like addicted to it or just something you don't…
Garrett: I don't.
Eli: Okay, so that, so that, so this actually could be the difference between addiction and not addiction.
Garrett: So I think at one point I was, well I don't know because I've never been diagnosed. I have only done self-diagnosis based off my based off the information I have. So I think that I like a simple way to to define addiction is if you do something chronically and compulsively and so from eight years old, I don't think I was addicted to porn until 2007, so that's when smartphones weren't in my pocket, and that's when I feel like it became an addiction. And um, but I don't know for sure because I was never diagnosed. But today I don't feel like I, it's weird because I know the same in AA is "Once an addict always an addict." Right?
Eli: Well there's, there are different, there are different degrees of that. So maybe it would be helpful to parse the two. There's physical addiction and then like AA's definition of addiction, physical addiction. There is actual a biological need, quote unquote that your body feels when it doesn't have something that its had continuously and that can be to anything, right? If you stay off of sugar for the next 30 45 days, if you're not used to that, your body will go through withdrawal for some people who are addicted. That phase of getting out of withdrawal, which is the physical addiction, they don't need AA. And that's not what I mean by an addict. And there's just a physical chemical addiction that someone has to wean themselves off of. And once they get to that point, then there's no, um, real desire to go back to it.
Garrett: Right.
Eli: However, with, um, w like AA's definition of addiction is I believe in allergic response to the chemical, right? So once there's a little bit of it, the, the response like one is too many, a thousand is not enough is one of the, another quote in AA… "One is too many to have and a thousand is not enough." Like once we started just goes full forced. So I'll give you an example of, in my case, something that triggered me really badly. I was in a bathroom and not about in a restaurant in Miami beach. I go to the bathroom and it was like a French bistro of sorts and all of the pictures in the bathroom or of um, uh, women in bondage, sorts, like tied up very, very soon naked. I was like, "Whoa." I could not believe it. And you know, I didn't go there to look at porn, but I had seen porn and when I came back to I was, you know, kinda stunned and I walked back out of the room and I felt that I felt a surge through me and I knew I had to do something so free. I told my wife about it. And then when the waiter came, I mentioned to the waiter, I said, I just let them know. I said, "Hey, you know, I've been, um, one of my main goals is to stay away from pornography and if you're going to have it in your bathroom, you should have a big ass sign on the door." It's going to be there. Cause that just hit me in the head. I'm standing up there over the urinal. I look up and I see this picture and I'm like, okay, it's staring me in my face. Uh, the next time I went to that restaurant, um, uh, about six weeks later and then someone else went to the bathroom before me and said, "Hey, there's no pictures on the wall." So actually my conversation with them got them to take it down, which was, which was cool to know.
Garrett: That' is cool.
Eli: But just in terms of that, like the, a definition of alcohol is you can force someone to drink alcohol and then there'll be that response that their body just kicks in and feels like it needs more, even if they stayed away from it for 15, 20 years. And it's why they say once an alcoholic, always an alcoholic or once an addict, always an addict. But that's not true for everyone who experienced physical addiction.
Garrett: Yeah. I think because I still feel, very seldomly, but I still feel that surge that you're talking about. But my logical side of my brain is able to say like, "Hey, like actually you don't want that and you don't want to walk down that road." where, uh, three years ago I couldn't have like the logical side wasn't speaking loud enough.
Eli: You know, it's um, someone who saw my Ted talk said to me that, and he sent me an article, support it that, um, there's no such thing as, um, addiction to pornography. It's all bullshit. And the article was in psychology today and had, you know, something that, you know, it's people who are experiencing religious guilt who have this and the correlation is more religious guilt and everything else. So what I responded to them, I said, "Let's say you're right, or they say 100% right." I said "To call anyone an addict, just like calling someone add or OCD is just, it's name calling. And it's not a nice thing to do. You don't call someone an addict, right? So when someone calls someone an addict the or call someone add or OCD is only to direct the therapy. So someone may not have add. But if they take a medication that's been proven to work for ADHD and it helps them then for their purposes saying they have add is useful."
So I said "For my purposes, calling it an um, an addiction and then the, um, modalities and therapies that have been known to be helpful for what you would consider a scientific addictions work for me. So totally works for me to call an addiction. And as much as that name calling works, it's true. And call yourself an addict if it's directing therapy that's going to help you." And so I think that's also necessarily need to be diagnosed as it, if you're going in that direction and you're using, it's working quite at the end of the day. Um, I've done things exactly like people did for, um, alcohol addiction and today I'm sober. It effing worked. What are you going to say? I'm not an addict? [laughter]
Garrett: [laughter] Right, right. One thing I have to say on that though is I think this person who sent you the article, the psychology today articles saying that the porn addiction isn't real. Um, I, I wonder if they're aware. It's not in the DSM and the U.S. uses the DSM often to help diagnose. Um, but it is recognized in ICD 11. So we're definitely working towards, um, recognizing it as it should be recognized. But I liked your explanation. Like if it's helping me then use that phrase and, and um, benefit from using it in that way.
Eli: Yeah, I'll call myself an anecdote day long if it's giving me a good way to, uh, to get out of the problem.
Garrett: I love it.
Eli: That's for certain.
Garrett: Eli, you are a good person and we uh, appreciate you, to be honest. Like I just want to acknowledge for a brief moment how traumatizing that experience must have been. The, the sexual abuse you, you experienced as a child. And, um, to take that and to open up about it and be vulnerable and to move away from shame through connection is something that we, myself and our audience is very, very grateful for. And then also I want to acknowledge your wife and how amazing she is because, uh, she's also, she's also helping in, in her way in supporting what you're doing as well.
Eli: He's been unbelievably supportive. And as a matter of fact, in October there was a film festival in Canada who saw my Ted talk and they reached out to me asking if I would speak there. And as I understood what they were doing, I agreed to go up there to speak. And, uh, when I was talking to the host, I mentioned my wife and how supportive she's been. And he said what she talk, cause that I see, I gave some illustrations of that, just how supportive she was when she talked cause he'd be amazingly powerful. And I asked her and she said, yeah. So, um, for the first time her and I will be giving a talk together. It won't be recorded, but, uh, we'll be doing a talk together in October, which is really, really special for me. A special moment that we're able to, you know, it's something that created disconnection between us, this addiction, and now to be used as, as a connection. I'm sure it'll be a very special moment on stage…
Garrett: Oh my goodness…
Eli: …for us to see how, um, you know, we can talk about stuff and I'm, I'm really interested to hear what she has to say because…
Garrett: I just got the chills, Eli, because it's going to be very powerful. I'm excited for that. Where is it? Where's it at? In Canada?
Eli: In Canada. Yeah. There's a film festival at a to on mental health.
Garrett: Which part of Canada?
Eli: Montreal.
Garrett: Montreal. Wow.
Eli: And the fifth day of the film festival is dedicated to addiction.
Garrett: Dude, I love it. Yeah. Well, that is, that's amazing. Um, Eli, you are, once again, we did, I can't thank you enough for being vulnerable, for sharing your experience. It's a powerful experience. And, um, if your goal was to help other people, you're definitely doing that. And, um, so thanks for coming on the podcast.
Eli: Yeah. If I can just leave someone with a clear takeaway in terms of what to do if someone stuck to me and everyone I speak to, I say the same thing. It starts with having the courage to reach out to one person and ask for help. It's like that's the, that's the ingredient that's a prerequisite to get better is to turn to someone and not just someone randomly. It could be sending an email to Fight the New Drug that's turning to someone and saying, "Hey, I'm stuck in this. I don't know what to do." And there's a lot of vulnerability in sending that email. But doing that is what I found the first step. You're getting help.
Garrett: Yeah, like kind of like your overall message from your Ted Talk was "Sharing our hardships helps us move through shame and into healing for yourself and others." Like one thing I imagine you never, you, you probably never thought that you'd be helping so many people with this challenge that you had. And I think that have a lot of our listeners can also kind of have, they can relate to that too. Like they're going through a challenge right now and it may seem like the worst thing ever, but eventually that challenge can help yourself and uh, and other people. So…
Eli: I've introduced probably five topics on this. Um, I've on this during our discussion that, um, at a certain point in time I thought that people knowing about this would be the death of me.
Garrett: Yeah. But it's actually bringing you life, right? It's bringing power.
Eli: We're talking because of that, how, how did this conversation happen? And this has been an amazing conversation for, for me. And how did this connection be created? Because I stood on the Ted stage talking about pornography, right?
Garrett: Yeah.
Eli: The thing that I shouldn't talk about in that film festival that I'll be talking with my wife. How did that happen? By getting up and talking, but it doesn't start there. It's not the first thing someone does when they want to get healthy and stand up on a stage and say in front of the whole world, "Hey, I have a porn addiction." That's not the best way. The best way is starting with one person and someone who's an expert in this, and I'm sure Fight the New Drug has tons of resources for that. Someone reaches out and says, "Hey, I need help with this and great, here's where to go. We're not therapists, but we know so when you can talk to them."
Garrett: Right. That's a great piece of advice to end on. Eli.
Thanks for joining us on this episode of Consider Before Consuming. Consider Before Consuming is brought to you by Fight the New Drug, Fight the New Drug is a non-religious and non-legislative organization that exists to provide individuals the opportunity to make an informed decision regarding pornography by raising awareness on its harmful effects using only science, facts, and personal accounts.
Remember to join us in November 22nd for #RepTheMovement. It's simple, start a conversation by posting on your social media using #RepTheMovement.
Fight the New Drug collaborates with a variety of qualified organizations and individuals with varying personal beliefs, affiliations, and political persuasions. As FTND is a non-religious and non-legislative organization, the personal beliefs, affiliations, and persuasions of any of our team members or of those we collaborate with do not reflect or impact the mission of Fight the New Drug.

A database of the ever-growing body of research on the harmful effects of porn.